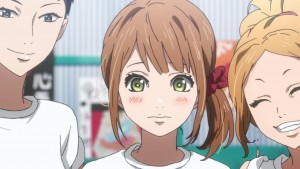 This was a tough episode for me to process, for a number of reasons.  Most mundane among them is that I've been traveling for most of the week, and I'm pretty wiped out at the moment.  But it goes a heck of a lot deeper than that, because that's the sort of ep this was.  I said after Episode 5 that it felt like the high-water mark for optimism for the series, and that very much seems to be true.  An ep like this would be a tough one to take on emotionally for anybody invested in the story, but there are personal factors involved too.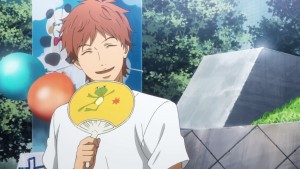 Many of you may be familiar with the posts I wrote about Watamote, another excellent series that confronted issues like teenage depression and isolation head-on.  That was a very different sort of anime in tone, obviously – it was the blackest of comedies but it still mainly used comedy to illuminate the human condition.  Orange is coming at this from an altogether different angle (call it "sein-jo" or whatever you like) but both hit unnervingly close to the mark.  I think it's a testament to how good both of these series are that they can make someone who's lived with the issues in question genuinely uncomfortable, as if someone is spilling their secrets in front of the world.  The moral, of course, is that our personal Hells are usually much less singular than we imagine, and if we can bring ourselves to share our burdens we'll find many others who understand our pain.  But like changing the past or one's own personality, that's easier said than done.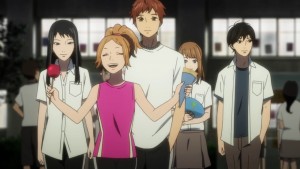 I said last week that Orange was in essence a story of two competing forces, possibility and regret. And at the risk of immodesty, I feel like that hit pretty close to the mark.  What we saw last week was the ephemeral triumph of possibility – the fleeting sense that tragedy could be averted and somehow everyone would wind up happy.  Well, regret has re-asserted itself in a big way and quickly too, just as I suspected it would.  Regret dominated this episode, it's greedy fingerprints all over it almost from start to finish.  Regret is the most human of burdens but it's one that the young are ill-equipped to carry, lacking as they do the perspective to realize that it's just a part of life, not the end of it.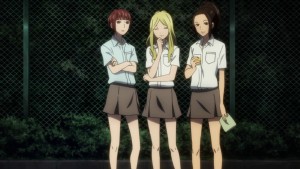 The possibility that Kakeru and Naho could wind up together certainly still lives in this timeline we're watching, even as both of them shyly avoid confronting the matter head-on.  Can either of them really have doubted the answer to the question Kakeru placed of Naho – or the one she posed in response?  The other four members of the group are doing their best to push them together (which has many implications, especially in light of what's revealed at the end of this episode) but the steps they take are baby steps.  This is very, very hard for Kakeru – Naho understands this on some level, but she doesn't grasp just how hard (or why) – at least not until the final few moments this week.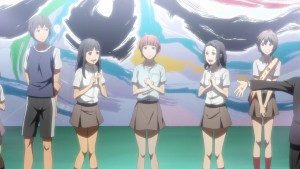 "Wrong choices" is the term Kakeru applies to his reason for hesitating in taking things with Naho to the next level, but that's just a fancy way of saying regrets.  Kakeru blames himself for what happened to his mother, and the ripples of that blame run through every aspect of this for him.  He doesn't think he deserves to be happy – especially with Naho, when it was her invitation on the day of the opening ceremony that caused him to cancel his plans to go with his mother to her new hospital.  Kakeru also knows that Suwa is in love with Naho, and Suwa is a friend who's gone out out of his way to show Kakeru kindness (again – implications to come), and has known Naho much longer.  What right does Kakeru have to inject himself and all his baggage into that?
That's nonsense, of course – we know it, watching from a distance.  But Kakeru doesn't know it.  To be shown the psychological breakdown of a kind, sensitive kid like Kakeru is a brutal thing to watch, and Orange is absolutely unsparing in depicting it.  No child should have to go through what he's going through, and no one who's never dealt with depression in their immediate family can fully understand the burden it places on those dealing with it, especially children.  We watch Kakeru and Naho in the process of creating what should be happy memories – watching the fireworks after the culture festival (despite another attempt at sabotage by Ueda and her coven), enjoying the Matsumoto Obon matsuri (which is gorgeously depicted, by the way).  But all the while Naho and Kakeru are alone together, they're never alone – there's a ghost present too (ironic, given the timing) and Kakeru is always aware of her presence.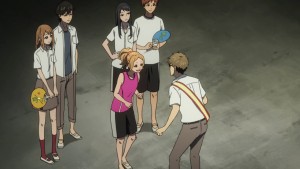 For me, it's impossible not to wince when Kakeru says "I'll remember this for the rest of my life".  Or when his grandmother shares his final note with Kakeru's now-adult friends.  How long was this boy thinking about doing what he did?  Naho's "this is not simple" comment about changing his fate seems to me the understatement of the year.  Most painful of all is their shared moment on that park bench on the night of the Bon festival, where she (with the best of intentions) presses him to open up about his mother.  On some level he wants to, of course – he wants to share his burden with anyone, especially Naho.  But he's also ashamed, as wrong as that it, and he fears that doing so will forever change things between them.  Did Naho's uncharacteristic insistence on drawing Kakeru out push him back onto the dark path?  Indeed, this is not simple.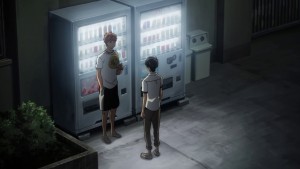 I want to know several things about the letter Suwa admits to Naho that he, too, has received.  Was it from his older self, or was it also from Naho?  Have the other three received letters as well?  We don't know how deep all this goes or how it works, but we do know that Suwa has acted because he knows what fate will befall Kakeru – and he's set aside his own future happiness to try and save Kakeru.  The really tragic part of all this is that still might not be enough, because once someone has started down the path Kakeru is walking, it's very difficult to change their course.  Anyone who understands the issues involved could tell you that, and it's very clear to me (just as it was with Watamote) that the manga-ka understands that in a way only someone who's lived it can understand it.