I give credit to Binan Koukou Chikyuu Bouei-bu LOVE! LOVE! for doing something a bit unexpected this season, and that's messing with the formula.  Whether to do that was always a bit of a delicate matter, because it's the absurdity and the genre parodies that drive the series.  But I think Takamatsu and Yokote were right in thinking there was a risk of things getting stale if the established pattern just kept repeating itself over and over.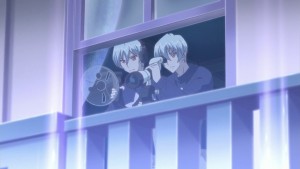 In the last couple of episodes Binan Koukou has started out following the expected pattern, only to veer off-course on the way to an expected conclusion.  This time around it's New Year's (which makes sense as last week was Christmas), which as anime watchers know is the most important holiday of the year in Japan.  We actually get a bit of a twist early on in the episode with the reveal that VEPPer are from Andromeda (if this has been confirmed earlier I've forgotten it), and they seem to have gotten the way they are because of abandonment issues.  That makes their obsession with Gora rather understandable (and human).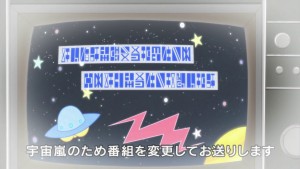 Basically, the Beppu seem to have no interest in ruling the world – they just want to bask in Gora-niisan's love and hate Yumoto because he soaks up most of it. And Dadacha hasn't really shown much interest in anything except cooking for them.  So all in all, it's hard to muster up much hostility for them even when they do mean things (which is pretty much all the time).  One element of the formula that hasn't changed is the guessing game about who the big-name seiyuu guest star is going to be, and this time around it's Natsuki Hanae as Snowman Monster.  He's the poor 23 year-old Binan student (in Rinne the high schoolers die – here they just stay in school forever) who VEPPer entrap in their usual harebrained scheme to make trouble for the Bouei-bu.
Even by Binan standards this whole confrontation is pretty silly.  The boys – and even Wom-san – have no interest in fighting on New Year's Day.  And really, all Snowman-chan does is make a mini-blizzard around Kurotama bath, which – let's be honest – is sort of fun and nice.  There's just too much sunny optimism from Yumoto for VEPPer's scheme to work, and even En-chan and Ryuu are happily skipping through the snow on their way to the konbini (about the only thing open in Japan on this day).  It's all too much for the Beppu twins to take in – in the end they go on tilt after the boys refuse to fight their snowman and then win him over with love, and confront the Earth Defense club with the truth.  That should shake things up rather nicely as we head into the final four episodes.