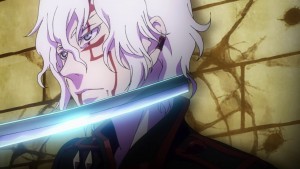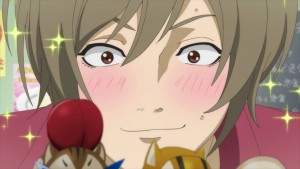 D.Gray-man Hallow – 02
I know it's been a long time since the first D.Gray-man aired, but this series is sure different than I remembered it.  Specifically, in terms of pacing, because I remember long arcs that seemed to take forever to unfold (generally to good effect, I should say).  It was definitely a dark epic, but Hallow is just so much more frenetic.  Perhaps it's nothing more than the fact that TMS has only one cour to work with this time, but there's just so much happening that my head is spinning by the end of every episode.
I have no idea how long the "Phantom Thief G" Arc (or whatever the manga readers call it) took to unfold in its original form, but I'd guess it was longer in relative terms than in the anime.  This was a good story, but it reminded me of a politician giving a good speech who dulls its impact by never pausing long enough to let the audience applaud (are you listening, 2004 John Kerry?).  The key moment here, I suppose, is the introduction of Tsukikami (Madono Mitsukai, and old-timer who's excellent here).  He's the human manifestation of Timothy's innocence, and he appears in the nick of time to try and help his master fight his way out of a pack of akuma (a Level 2, 3 and 4).  It's also notable that Crown Clown actually hurts Allen when it's only supposed to, you know – hurt evil things.
The action here is pretty solid, but it flies by so fast that's it's hard to really latch onto what's happening at any given moment.  Likewise the denouement, which is Timothy and the exorcists rescuing the orphans and Sensei, and his decision to join the Order.  There's some genuine emotion to it, but it's just upon us too fast for it to really have much impact. If this sort of pacing continues for the rest of the season, I'm not sure I'm going to have the endurance to keep up…
Cheer Danshi!! – 03
Cheer Danshi certainly isn't the most exciting series out there.  It's not slick or especially polished, either.  But there is a certain charm to it.  The show – and its cast – are so unapologetically goofy and unpretentious that it's hard not to like them both.
This episode offered a little more in terms of high-revving comedy than the first two as well, which marked a nice energy boost for what can sometimes be a dangerously languid show.  Most of that involved the seventh team member, Tokugawa Shou (Ono Yuuki) and his obsession with hyper-kawaii product mascot Rocky the squirrel.  Somehow Mizuguchu gets it into his head that he should try and be a squirrel too, as he and Toono (and Haru for a while to) struggle to to learn round-off back handsprings to try and impress their new desired recruit.  Much of the episode, in fact, consists of the three of them practicing endlessly to try and perfect (well – that might be a little strong) the move.  As someone who really hated tumbling and was terrible at it, I feel their pain.
I think what saves Cheer Danshi, in addition to its unassuming nature, is the fact that it never comes off as a series that's trying shamelessly to appeal to a specific demographic (like Free!, for example).  The guys in this series look for the most part like actual guys – a little squishy around the middle, or skinny-armed, or just generally a bit mousey.  I suspect not trying too hard will in this case mean the production committee not having to spend much time cashing checks, but be that as it may, it's quite appealing.  I may not keep blogging it, just because it kind of speaks for itself and the season is pretty loaded, but I'll still be watching for the foreseeable future.