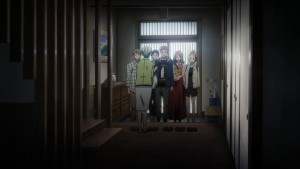 We're only 4 episodes in and Orange has already kicked my ass and left me for dead by the side of the road, so I can only assume the next two months-plus are going to be a rocky ride.  I'm hard-pressed to think of too many anime that hit you with so many emotional broadsides so early in the story – the approach here is very direct, but even if you know the punch is coming that's no help to you if you can't avoid it.  Orange is the sort of series that seems to bring out the "M" in us.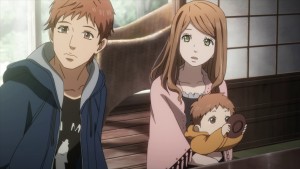 The only real disappointment I have with the current run of events is that I'd hoped Ueda-sempai might not end up being so unlikable.  That would have made things a little less black and white, because seeing Naho suffer through watching Ueda and Kakeru together is already gut-wrenching enough (especially knowing what's going to happen).  Ueda ending up being (by current appearances at least) a stuck-up and possessive b-word has a more cliche shoujo feel than anything else in the mostly cliche-free Orange so far (as my friend Samu pointed out, the serialization actually finished in a seinen publication).
In the final analysis that seems more of a style than substance issue, though, because the basic premise is pretty well-established.  It's funny, because superficially at least that premise seems very straightforward – a terrible thing happened to someone she loved, and adult Naho is trying to save him through metaphysical/magical means.  But I still feel as if I don't know the endgame here.  It's going to sound like a funny thing to say, but it almost feels to me as if this series is a battle of wills between the two Nahos – the teenager and the adult.  But just what the true stakes are I'm not yet ready to say.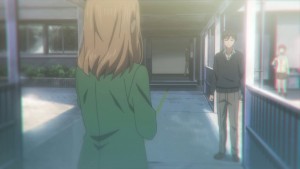 If it weren't for what was happening with those letters from the future, the relationship dynamic would seem quite normal for a shoujo drama (and frankly, a real high school situation).  Ueda takes Kakeru away not just from Naho, but from the group, and the group resents her for it.  Takako wonders "whose side" Kakeru is on – an understandable but fruitless question.  All the while the distance between Kakeru and Naho widens, even though her elder self admonishes Naho not to let that happen.  She stops making lunches; she stops waking him up in the morning.  He's hurt, very hurt – even if he's not the sort of kid to admit that to Naho, it's plain for us to see.  And the notes from the future keep coming.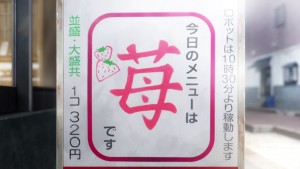 This is a very important question that hasn't been addressed – just how is Naho seeing these letters?  Did she receive a big stack of them all at one and is reading them piecemeal, or do they keep coming one after the other?  And if it's the latter, do the incremental changes caused by Naho's behavior impact the world the older Naho is seeing when she writes those letters?  If every letter Naho writes is coming from a slightly different future, always changing as a result of the last letter and young Naho reading it, that's certainly a game-changer.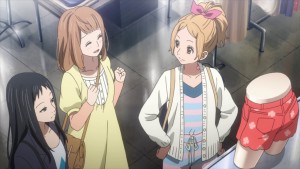 I'm quite torn by what I'm watching here, between what I want superficially and what my mind is telling me is really going on.  Flat-out, I want to see Kakeru saved – desperately want it.  I don't think there's a lurking evil side here – I think he's a kind boy who's been through a lot, and at some point loses hope and decides to stop fighting (besides – "I forgot what I was going to say"?  How can you not like this guy?).  What decent person wouldn't want to see that prevented?  It's heartbreaking to think of this good-hearted kid killing himself.  But what's the cost of that change – is it really so simple?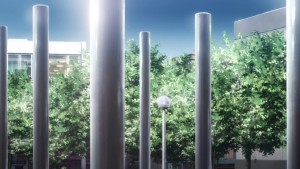 I'm very much with Naho when she expresses frustration with her adult self over these commands she's getting – it's easy to look back with the benefit of hindsight and give orders, but it's not so easy to follow them when you're trying to live your life.  Think about it this way – Naho did the things she did the first time around because that was her natural, instinctive behavior.  That's not to say there aren't times when we should fight against our tendencies, but Naho-san is asking Naho-chan to act against her very nature, pretty much by definition.  That's hard – for anyone, much less a 16 year-old girl.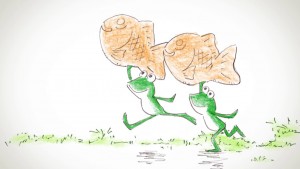 This is the real torture of Orange.  As much as you want to be happy when Kakeru reacts angrily to Ueda knocking Naho down, and they end up talking openly at last – and you are happy – there's a part of you screaming "This isn't right – it wasn't supposed to happen that way!"  And then there's Suwa, smiling helplessly in the stairwell (is there something suspiciously knowing in his face here?) after he pushes Naho into Kakeru's arms, calling to mind the image of the adult Suwa and the baby he had with Naho.  Orange would be painful enough as the straightforward teenage drama so much of it is, but that's only the most superficial layer.  And I suppose that's the real genius of it as a series.