I think Orange may be nearing a record for a series that's made me go "Hmmm" the most times in two episodes.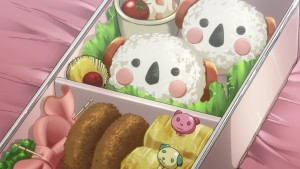 Well, first off, that was an exceptional episode – let's get that straight.  I would say hand's down the best of the season so far, but I've seen Mob Psycho 100 Episode 2 and most of you haven't, so I'll hold my fire on that question for now.  There was one cautionary note, though, and it was hidden in plain sight in the closing credits: namely, this episode had 17 Animation Directors.  Those of us who follow anime production know that can be a very worrying sign indeed, especially when we're dealing with a studio of modest means like Telecom Animation Films (though they do have bigger dogs like TMS providing production assistance).  It's clear that the story is more than strong enough to carry the series, but it'd be a shame if the beautiful visuals we saw in the premiere gave way to production delays and cost-cutting.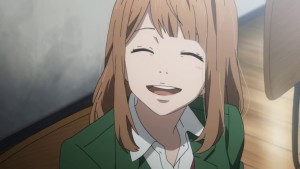 You'll have to forgive me if I don't reply much in the comments, because as a new viewer of Orange I'm obviously going to have to be very careful of mines.  But frankly, I was surprised that the episode gave away as much as it did so early in the story.  It was a fascinating exercise, trying to puzzle together just what was going on here – subtexts hidden inside of subtexts.  But then Kakeru and Naho went and dropped massive spoiler bombs in the last five minutes of the episode, and that pretty much hit the reset button on the narrative.  I've got a lot of faith in both the anime staff and Takano Ichigo after the first two eps, but I'll have to adjust my approach now, because clearly this is a different kind of story than I initially thought.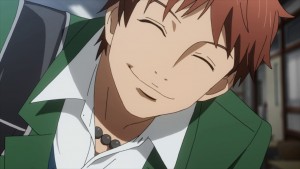 It's been a long-standing tenet for me that the mistakes we regret the most in life are not things we did and wish we hadn't, but things we didn't do and wish we had.  It's also quite clear to me that this is a lesson we don't generally learn until well into adulthood – if we learn it at all – and even once learned, it's a hard one to live by.  So this premise cuts pretty deep for me, watching young kids (most especially Naho of course) grapple with the crippling indecision and anxiety that's a staple of adolescence (and often much longer) for so many. This is a very powerful metaphor – an adult writing to their teenage self and urging them to act rather than hesitate.  But is the adult Naho really doing her adolescent self a favor here?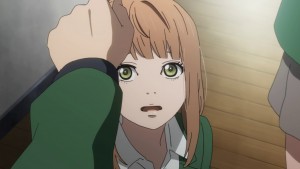 I was the tiniest bit concerned seeing Hamasaki Hiroshi's name attached to Orange as director, because his work in that role in the past hasn't been that notable apart from Steins;Gate – and that show had more directors than the DGA.  But it seems I needn't have worried, because his work on this series has been very impressive.  He's captured the tension inherent in the situation beautifully, realizing he doesn't need to oversell it.  And I love the way specific scenes are executed – as an example, Naho and her mother (played by the superb Inoue Kikuo) both wrestling with indecision (a reminder of the fact that this trait doesn't necessarily leave us as we enter adulthood).  I also loved the moment when Naho finally handed the bento to Kakeru – the way the tremor in her hands was passed to the lunchbox, momentarily stilled when Kakeru grasped it, then returned once he took it from her hands.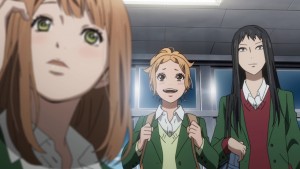 I would have to break this episode down to pre- and post-revelation, because learning what we did changed an awful lot.  The dynamic between Naho, Kakeru and Suwa is a fascinating one.  We know Naho and Suwa end up together – we only suspected it until the end of this ep, and Naho seemingly still doesn't know – and there's a clear attraction on Suwa's part already.  But his embrace of Kakeru into the group seems genuine, and he even seems to be pushing Kakeru and Naho together.  Then there's the matter of that bento box, which brought so much tension into the episode.  Will she give it to him or won't she?  In hindsight of course Kakeru's comment that his mom "won't make me a lunch" takes on an entirely new and heartbreaking meaning.  It was clear this boy was damaged in some way, but considering how fresh his wounds are, he masks them well.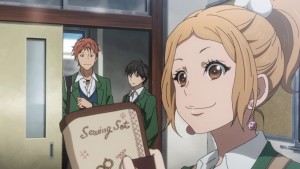 Even knowing what we know, I think there are some very fundamental questions at play here.  Most fundamental of course is the matter of how the 26 year-old Naho managed to send a letter a decade into the past, but that's not the key question for me – it's more about housekeeping since the conceit requires suspension of disbelief.  No, what I most want to know is this: just what does the adult Naho hope to achieve from this exercise?  Does she intend to somehow save Kakeru, or is she simply trying to spare her teenage self (and by extension, herself) the agony of regret?  To be honest I think that would be quite a selfish act, though understandable.  But look at it this way – Naho seems to have found happiness with Suwa. They have a beautiful baby together.  If Kakeru were somehow to be saved, wouldn't that future be put at risk?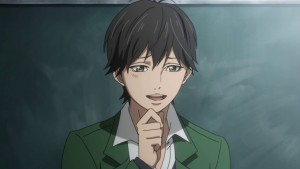 Obviously these are some pretty heavy issues we're confronting here, and we're only two episodes into a thirteen-episode run.  As I said I'm a bit surprised that so much was revealed so soon, but the flipside of that is that there are so many potentially powerful permutations to this story that remain viable.  Series like Orange are every reason to be sorry that shoujo manga aren't adapted into anime more often, and that the ones chosen often aren't the best of breed.  But in a way I almost feel as if this is a series that's dumped into the demographic by default, because it's relationship-driven and it has a teenage female lead.  Really, Orange is a dramatic story plain and simple, and it speaks more to the paucity of such stories in other demographics (like shounen) that it's called a shoujo at all.  But whatever else you call it, after two episodes I call it gripping and one of the best series of the year so far.