One person's disasters are an anime viewer's good fortune.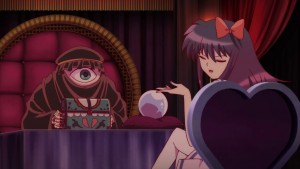 The seven people watching this series know how lucky we are, because for sheer, straight-up hilarity there isn't much out there that can do with Kyoukai no Rinne has done for 41 episodes.  No question, seeing an old-timer like Rumiko – somebody for whom the anime/manga industry is now deeply ingrained in their DNA – so ruthlessly satirize it is a treat.  But there can be no question that the material in Rinne just packs more punch in anime form, plain and simple, and the cast here is beyond reproach.  It's a joy to watch.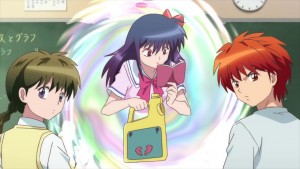 This was definitely one of my favorite episodes of the series, loaded front-to-back with inspired lunacy.  Rinne has very deep pockets when it comes to comic characters, and this time around it pulls out Ageha for the first time in a while.  Ageha is the consummate aho in every sense – she truly is a gloriously idiotic person, a God-tier baka.  So it was no surprise when Renge's flashback to their elementary-school days revealed that Ageha was a series of disasters even then.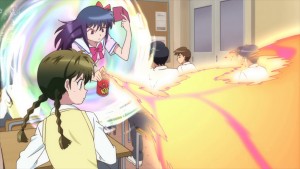 As it happens, Ageha and Renge make a very good comedy team, as they're so opposite in every respect.  This ep finds Ageha buying a "break-up kit" from a street soothsayer (hey, she can afford it), which she intends to use to break up Rinne and Mamiya Sakura.  But Renge sees this as an opportunity for payback, knowing that disaster befalls the user if they curse the wrong couple.  Things start out "innocently" enough, with Ageha setting Rinne-kun on fire in the classroom.  But as soon as Ageha gets involved the real fireworks start.
Where do I begin to list the comic gems that billow forth from this setup?
Renge's fictional "origin story" of her and Rinne's meeting – and Rinne's "Not only was that BS, why was it from my POV?" response
"If you're bored, you can go back and count"
"It's shallow enough to stand in."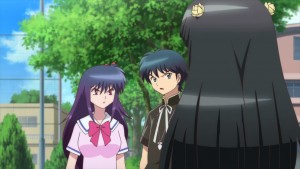 One of the things I love about Kyoukai no Rinne is that it doesn't sugarcoat its antagonists – even the ones who aren't truly evil can be utter assholes.  Renge is just a really, really awful person – there's no soft and cuddly side to her.  And Ageha is unrepentantly stupid and incredibly shallow.  These two absolutely deserve each other, and it's glorious to watch them go at it.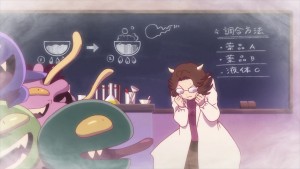 Despite all that, though, maybe my favorite part of the episode didn't even involve the main plot.  That would be the intermission cut-in "Tama-net", which featured Obaa-san Tama and her black cat hawking a series of romance aids.  First off, Tama naturally casts herself as a high school girl in these vignettes, which is perfect.  But all the crap she's selling is taken directly from manga and anime romance cliches – a piece of toast with a bite out of it, a cute puppy for guys to parade in front of girls, and best of all the "Guuguu Cushion" – which simulates the noise of a boy's growly stomach so he can get his crush to give him her home ec cookies.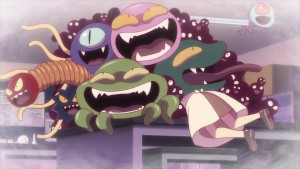 This little interlude is comedy perfection – so smart, so viciously on-point, so flawlessly executed.  And that fact that it happens to be sandwiched inside a truly great episode is the icing on the cake.  It truly is a shame that Kyoukai no Rinne languishes in the least-trafficked corners of the anime schedule, but that doesn't diminish its accomplishments one little bit.