Daddy issues…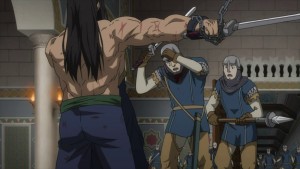 The battle for the throne of Pars becomes even more interesting – and complicated – even as the battle for Peshawar comes to an end for now.  Much like Shoukigeki no Souma, Arslan Senki seems to have pulled out of the driveway doing 80 MPH in its second season, launching right into those battles without much preamble or interruption. But ultimately this series is at least as much about the political and familial struggle as the military, so it's going to be interesting to see how Arslan Senki finds the right balance in an eight episode mini-cour.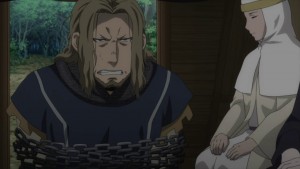 The downside to this episode is the same one that's been the trip-wire for Arslan from the beginning, namely that the resolution of the fight against Turan once more came down to Narsus being the smartest guy in the room.  My issue here is that we see the same basic template repeating itself – he comes up with a brilliant plan, lays a trap for the enemy, they fall into it and Arslan's side triumphs.  If there was a wrinkle this time it's that Narsus didn't let Arslan in on his plan (which has happened only occasionally) – in fact the boy's ignorance was a crucial part of Narsus' strategy.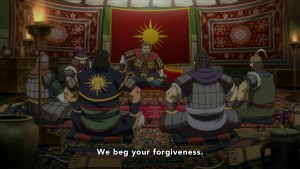 The issue with Turan isn't totally resolved, since one of their generals killed the king for ordering a retreat after it was clear the raiding hordes were going to be routed utterly.  But for now they're licking their wounds, leaving Arslan to deal with an altogether more dangerous enemy – his father (or most likely, not).  Turan is an "honest" foe, as Narsus says – direct and straightforward, and thus an ideal foil for his credulity-stretching strategic genius.  And with the help of the as-always impeccably-timed Gieve (and his presence is welcome, as he brings a lot to the table as a character) turning back Turan is pretty straightforward.  But dealing with Andragoras is anything but straightforward even for Narsus.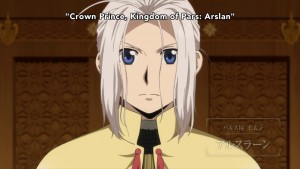 I would like to think Narsus had some sort of contingency plan in mind for this development, though he's clearly surprised that it's happened so soon.  Andragoras' return to the picture was always going to be a potential problem, unless Narsus' idea was to kill him on the sly in the dungeons after liberating Ectabana.  Narsus and Andragoras are fundamentally incompatible as allies of course – in fact I was very surprised the latter had nothing to say about the former's presence in his son's retinue – given that Narsus was exiled for disagreement with the fundamental tenets of Andragoras' rule.  And Arslan's stated goals for Pars are now likewise incompatible with Andragoras' rule.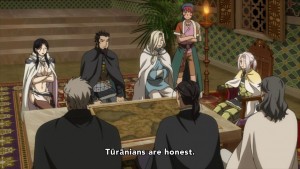 So what now?  It hadn't occurred to me before, but I wonder if it's conceivable that Arslan and Hilmes could end up in an uneasy alliance.  They both have the same enemy now, effectively.  And there was no acknowledgement by Andragoras that Arsslan had done a fine job not just surviving, but gathering an army and retaking territory.  Instead he effectively accused Arslan of treason for acting in his name and sent him into exile, not to return until he had an army of 50,000 soldiers (a staggering sum in this setting).  It's not logical, but obviously Andragoras knows Arslan is a threat to his rule, and he's seeking to sideline him for as long as possible.  Arslan and Andragoras was probably always destined to be this series' final showdown, but we've been set on that path now far more clearly than ever before.