It's a good show, but if I'm honest Joker Game is really starting to annoy me.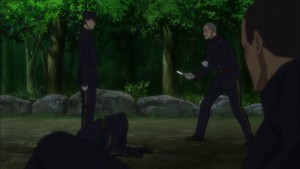 Sometimes I sort of reach a saturation point with a series, and my feelings about it can turn pretty quickly.  That can happen later in the game than you'd think, too – and not always because of a shark-jumping plotquake of some kind.  Every so often I just get to where I can only take whatever it is that makes a show what it is for so long before it starts to irritate me when it didn't earlier (at least not to the same degree).  And so it seems is the case with Joker Game, though it still has three episodes left to try and turn the tide.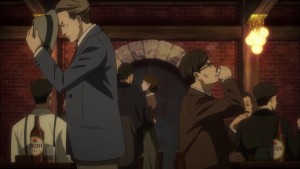 I talked about this a bit last week, but it really strikes me that I've simply misjudged what sort of series Joker Game is – or put less charitably, given it too much credit.  Setting aside the fact that the protagonists are seemingly an attempt at portraying a kinder, gentler kind of patriotic fascism, what the plot of the show essentially boils down to is Japanese spies making fools out of foreign spies in a different stand-alone story every week.  A certain kind of cultural chauvinism is to be expected – Western art certainly suffers from it too, and Asians generally have often been the victims of it.  But that fact doesn't make it any less tiresome.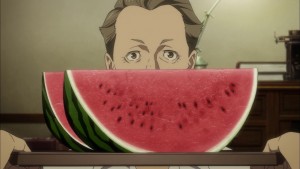 I certainly don't begrudge Japanese writers glorifying Japanese characters even in dark times for the country (as WW II certainly was, as it was for the entire world), but I do reject the notion that it's only right that patriotism be celebrated even when the ideals of the government are seriously askew.  As an American, should I be expected to glory in patriotic pride when looking back on the Jackson administration – when the phrase "The only good Indian is a dead Indian" was a statement of policy by the President?  Should I make allowances for patriotism if an American writer paints the internment of Japanese Americans during WW II as a proud moment in our history?  Cultural relativism only goes so far – we're all human beings first and citizens of a country after.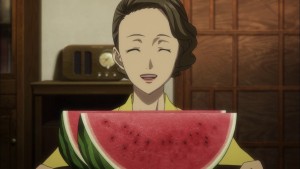 That may be why this week's episode of Joker Game especially galls me.  Not only is the way the English spy Price is played by Yuuki especially condescending, but Yuuki's act of so-called kindness towards him in the end strikes me as being an especially bald-faced bit of dramatic obfuscation (not to mention paternalism).  You can't separate what Yuuki's political goals are from his personal behavior and his catch phrase – the one does not excuse the other.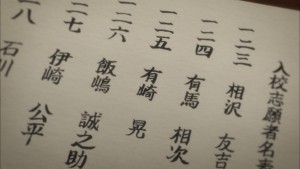 Yanagi-sensei is certainly entitled to write a story that whitewashes history, and Production I.G. to make an anime from it – and quite a good one too, in many ways.  But I'm just as entitled to be annoyed by that.  Perhaps if the series had put more effort into developing these characters, showing us who they really are – what they really felt about what their country was doing in their name, even if they were OK with it – I would have been a lot more forgiving regarding everything I'm writing about here.  But they didn't – we're almost at the end and we still have no idea who Yuuki really is as a man (and no – a fake back-story doesn't count).  I had misgivings about the "D-Agent of the week" format from the beginning – and voiced them – but I think it's proved to be a problem in ways that have only become clear in recent weeks.  It's a shame, because there's a lot to like here – and a couple of early episodes (like the one set in Shanghai) seemed to imply a degree of introspection in the writing that later episodes simply didn't bear out.