Damn those torpedoes!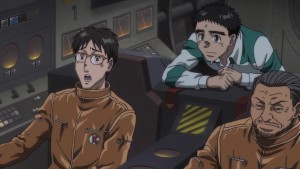 One of the masterful elements of Ushio to Tora is the way it's always been able to balance the wide-angle and the close-up.  Even as it's spun a huge story with an ever- growing sense of consequence, it's never lost touch with the interior stories of its characters.  And I'm not sure that's ever been on better display than with this episode, which was certainly one of the best of the entire series.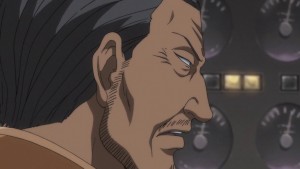 One thing's for sure – fairness has never entered into the equation when it comes to Ushio.  While his face to face meeting with his mother has been something the entire series has been building towards, it never seemed likely he was going to be allowed the time for the reunion he dreamed of.  Still, if nothing else Ushio has been on the receiving end of a lot of kindness over his journeys, and the two dudes on the Undine certainly fall under the "random acts of" umbrella.  I suppose that sort of decency the only thing that's beyond Hakumen no Mono's capability to destroy.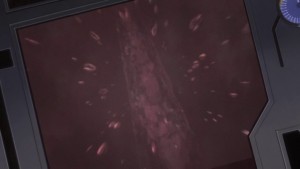 There were so many ways UshiTora could have gotten this meeting wrong – it could have been overplayed and saccharine, or an anti-climax.   But it was certainly neither of those things – in fact, it was pretty close to perfect.  Especially in the context of how tense the scene was with Armageddon lurking at any moment, it was remarkably powerful and on-point.  Ushio has come to this meeting with his head crammed full of things he'd like to say, but in the moment he can't do anything but stutter and blush.  And in truth that's pretty understandable.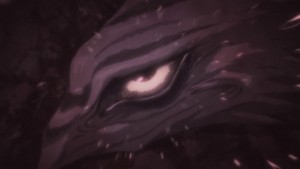 This is pretty tragic stuff on the whole.  These two have given up an awful lot in accepting their destiny.  Ushio's mom just wants to be a mom, and Ushio just wants to be a momma's boy – and neither one of them has been allowed to do it.  My favorite part of this exchange is probably Ushio showing off his scars, trying to convince his mother that the one on his forehead isn't her fault.  The thing is, all of this is talking place under the watchful eye (and what an eye) of Hakumen no Mono, and it feels somehow obscene and voyeuristic when you consider it.  What's happening here seems to be the essence of what Hakuman loves to destroy.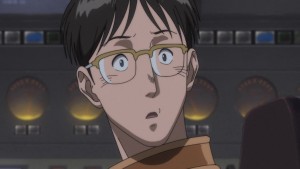 Naturally, the torpedoes arrive just when Ushio is about to let his mother fulfill her wish to pat his head.  And they do a lot more than break up a reunion – they unleash Hakumen on the world after his 700-year imprisonment.  That grin on its face as the barrier is coming down is gloriously evil and terrifying, which sums up Hakumen itself pretty well.  This is truly a game-changer – Hakumen is free, and that means the final battle has well and truly begun.  As formidable as Tora is, when he arrives just in time to face down Hakumen he looks like a stray kitten.  This is big, and Ushio to Tora does big awfully well – but it's its skill at getting the small stuff right that's made this such a compelling ride.