Never let it be said that this series isn't a learning experience.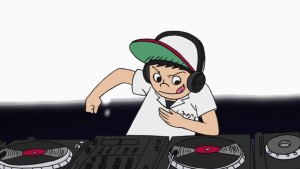 There was a lot to like in this week's episode of Tonkatsu DJ Agetarou, but I think one has to start out with an expression of gratitude.  Think back hard, now – how often have you seen anime present Koreans in Japan in a favorable light?  How often have you seen anime celebrate Korean culture rather then denigrate it or (at best) ignore it?  More often it's stuff like Sakurasou having to apologize for showing a character cook a Korean dish, or Akatsuki no Yona having to put a disclaimer at the beginning of every episode because the setting is based on Korea. It may not seem like much, but a little show like this one bucking the trend is quite heartening.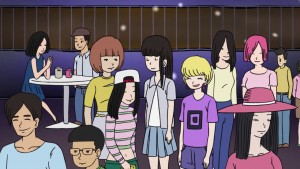 We get to that in a rather roundabout way, the major theme being Agetarou wrestling with something every artists who's trying to succeed professionally has to wrestle with – do they stay true to their own sensibility, or do they g against it and give the audience what they want?  When Agetarou takes on what's basically a corporate gig, he inherits a floor full of young millennials who aren't into the old-school tracks he lays down.  They want something with drive and a beat that's easy to dance to, and of course that's EDM (even I've heard of that), which the follow-up act – young Korean DJ E. Dong Myeong, happily serves up with great results.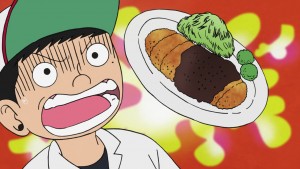 This is a tricky subject, because as a performing artist, Agetarou isn't truly succeeding if he isn't connecting with his audience.  Yet of course if he isn't genuine, that will eventually show through – not to mention dull his love for being a DJ.  You can't make people eat tonkatsu if they want yakiniku (and apparently EDM people are yakiniku people).  So what's a struggling young DJ to do?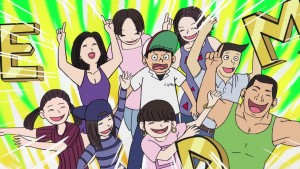 The answer Agetarou arrives at he does so by pure chance: he goes into a yakiniku-ya and hears the proprietress chopping daikon to the beat of ppongjjak. If you say you knew what that was I'm going to suspect you're lying, but I sure didn't – and apparently it's like "Korean enka" (which, as it happens, would be an explanation of no use to about 95% of the American public).  This populist Korean music speaks to Agetarou, and the next time he takes a corporate gig he sets the audience up with EDM and knocks them down with ppongjjak.  It's so successful that even E. Dong Myeong is dancing – and crying, as it reminds him of his mother in Seoul (for a Japanese series to acknowledge that Koreans not only have mothers but love them is a major breakthrough).  And so a new friendship is formed – may it serve as inspiration for others…