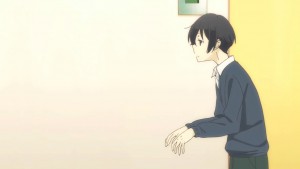 Apologies for the short posts this weekend, but the severe back-loading of the weekly schedule this season makes such things unavoidable whenever I have to travel anywhere.  As usual, Tanaka-kun wa Itsumo Kedaruge was just about note-perfect this week, and it added the last of the really important characters (though not the last character overall) at last in Tanaka Rino (Aoi Yuuki).  She is, of course, Tanaka-kun's imouto, and she's one of the better iterations of this massively overused and generally annoying character trope.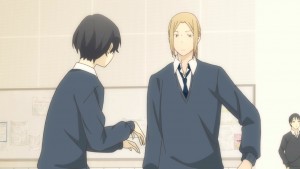 It's always a net plus when a show adds Yuuki-san, especially for a part as fraught with potential pitfalls as this one.  I give most of the credit to Uda Nozomi because Rino is a very good character as written, but Yuuki is plain and simply damn good – she can be funny and she can be serious (she's mostly the former here).  And perhaps most importantly in this context, she can be cute without being insufferable.  She cuts the kawaii with a dose of acerbic wit, and takes her moe characters to the edge of being a bit loopy.  And that works a treat for Rino.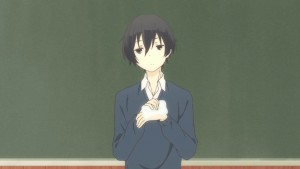 The theme here is Valentine's Day, that monumental "X" on the calendar of adolescents all over Japan.  Someone has mysteriously placed a box of homemade chocolates in Tanaka's bag – along with a bar of ¥98 obligation chocolate in the form of a Meiji dark chocolate bar for Ohta.  Tanaka is upset by this for the exact reason he should be – it means he has to theoretically go through the effort of returning the favor on White Day, and while he likes chocolate, that's just too much work.  In fact he expounds on this theme a bit later in a brilliantly written passage in which he relates to Ohta-kun that he's "naturally curious about the things a boy should be curious about", but not so much that he's willing to put up the effort to indulge his curiosity.  If he ever meets a girl who can convince him otherwise, he'll know he's in love.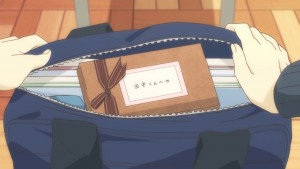 There's much speculation over who might be responsible.  The "I'm always watching" part of the note suggests that it might be "bullet girl" Miyano, but she doesn't think of the boys as members of the opposite sex as much as "God and Buddha".  Ohta thinks if might be "Miss Macaron" Shiraishi (who seems a likely suspect) but she forgot it was Valentine's Day because she was always a loner.  Tanaka-kun is happy when he thinks it was Shiraishi (heh) but rather alarmed when he learns it wasn't – especially when he finds a voice recorder in his bag.  That's when Rino coincidentally shows up and asks Ohta to come back to the house for tea, which Tanaka-kun endorses under the theory that once Ohta knows where he lives he can become a human taxi ("I want to be invited over for a better reason than that.").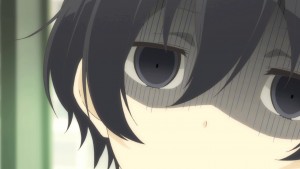 Is a little sister with a possessive crush on her older brother played out in anime?  Of course – but Tanaka-kun's take on it still feels fresh.  The relationship between the siblings is quite charming, and Rino's interplay with Ohta frequently hilarious (she passive-aggressively calls him "Fuutouta", playing on the similarity of the Kanji). In a very real sense both Ohta and Rino could be seen as enablers of Tanaka's listlessness since, they, well- enable him to be lazy both at home and school.  But it's still sweet rather than troubling (in both cases) somehow, and the fact is that Tanaka has an odd sort of nobility about him despite (or perhaps because of) his unique nature.  He's clever, too, in spite of appearances – he does latch onto the fact that it was Rino that gave him the chocolates just as he figured out Shiraishi's secret identity (though he's not so successful at figuring out the reason why.