This whole episodic thing is starting to grow on me.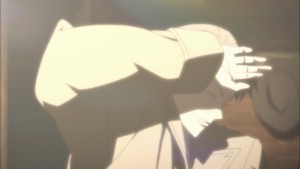 One of the really fascinating things about Joker Game is the way it toys with your rooting interests as a viewer.  And that's coming from an American – I can only imagine what it's like for a Japanese person.  Talk about divided loyalties – here we have a Japanese spy working in London, a guy in theory supporting the fascist Axis.  But he's also the protagonist of the episode, and when he's in peril it has an impact.  And that's not even to mention the fact that he's working for a man who seems to be working to undermine the fascists – but to what extent we don't yet know.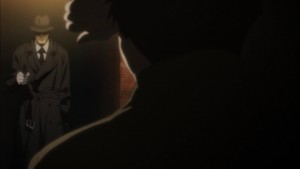 That's the setting for the second really strong episode of Joker Game in a row, which isn't hurt by the fact that the protagonist this time is played by a guy who can really act in Kimura Ryouhei.  He's Kaminaga, who's undercover as a photographer in London.  At the very start of the episode he's arrested and taken in for questioning by the SIS, who are headed up by an obviously very capable (though freakishly drawn) Col. Marks (Ootsuka Houchou).  The tension kicks in right at the beginning of the episode and never really lets up.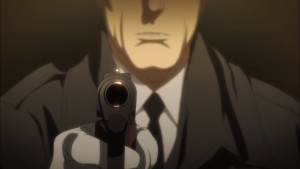 What this episode really communicates brilliantly, I think, is a sense of disorientation because nothing is what it seems to be.  That's the world these guys live in of course – they're actors and liars more than anything.  Their lives are manipulated by men trying to see many moves ahead on the board, men who understand the value of preparing for any eventuality.  Col. Yuuki is certainly such a man, and he understands the urgency of planning for the moment when one of his men is captured and interrogated by the enemy.  And that means trying the men to compartmentalize their minds – there are secrets it's OK for the enemy to extract from you, and those which are not.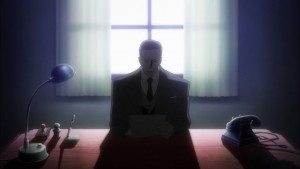 The metaphor Yanagi-sensei (or at least this adaptation) chooses for Kaminaga's situation is Robinson Crusoe, the Englishman in Dafoe's novel who's lost at sea and winds up spending decades on a tropical island with the natives.  There's a very specific reason Yuuki gave Kaminaga that book before he sent him on this mission, which will become clear soon enough.  But what also becomes clear is that everything we're seeing in this episode is a performance – right down to Kaminaga's panic at being captured and anger at Yuuki for selling him out.  This capture has been planned all long, in service of a larger goal – and contingencies have been made to at least give Kaminaga a chance to escape with his life.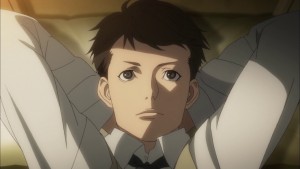 This is all played out rather splendidly, but it does leave us with that interesting conundrum of loyalties.  What Yuuki appears to have done here – with the help of a sleeper agent "Friday" inside the SIS – is concoct an elaborate charade with the intent of exposing a loose-lipped Japanese diplomat.  That's clearly a valuable service to the Imperial Army – who, in theory, Yuuki is working to undermine.  If this diplomat is hurting the cause of the pro-fascist Japanese government, why would Yuuki take such elaborate steps to expose the problem?  Those are the kind of answers I suspect we're only going to get when the story turns from his foot soldiers to Yuuki himself, and that's a turn I don't expect until very late in the series (or perhaps even the OVAs).