In a lot of ways, this is a series that doesn't make things easy.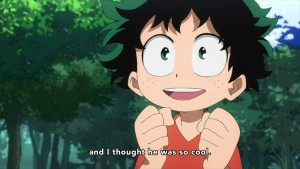 By now, I think the reasons why Boku no Hero Academia has become a hit manga in Japan should be obvious from the anime – and I say this in full knowledge that the best parts of the story are still to come.  I would assume you're either on the bandwagon by now or you're not, because if you're a fan of raw, martial spirit shounen in its most primordial form, BnHA should already be written in ink on your viewing schedule.  It's not hard to figure out the appeal of this show because it wears its identity on its sleeve.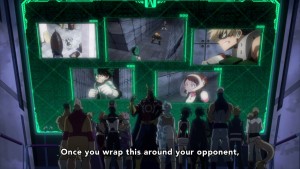 That said, Boku no Hero can be a difficult series in a ways that should likewise be easy to see by this point in the story.  Deku's journey is a hard one – he may have a quirk (and a powerful one) now but it's not his in the way Kacchan's (and all of his other classmates, too) is, and the difficulties that causes are already revealing themselves.  We're used to seeing shounen protagonists tested along their journeys, but make no mistake about it – Deku doesn't get a free pass anywhere along the route.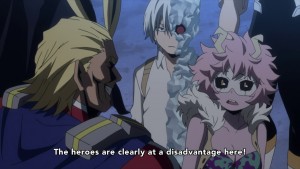 Then there's Kacchan.  What isn't difficult about Kacchan?  This is not an easy guy to love, that's for sure.  And he's not interested in being loved anyway – "feared" is clearly much higher on his totem pole.  I think Horikoshi rather ingeniously uses Bakugo to play with the notion of what a "hero" is in fact.  Can a bully be a hero?  Can a boy who unleashes deadly force against another in a mock battle exercise be one?  I've seen some anime viewers struggle with Bakugo, wondering when he's going to become likeable, show his softer side.  Well, this kid is what he is – there's more to him than what we've seen, and his relationship with Izuku is complicated, but he's rough as four-dollar sandpaper and he doesn't give a rat's ass what you think of him.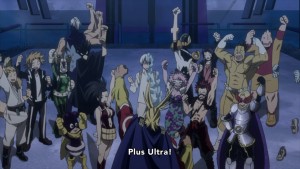 All of that makes this battle between Izuku and Kacchan a fascinating one to watch play out.  In the first place it's obviously a joy to watch a studio like Madhouse or Bones draw a spectacular action sequence like this in glorious 2D, but there's a lot more to this faceoff than eye candy.  Playtime this is not – there's a tremendous amount of baggage between these two boys going back to when they were toddlers.  Make no mistake about it, this is deeply personal – and just as much so for Deku as it is for Bakugo.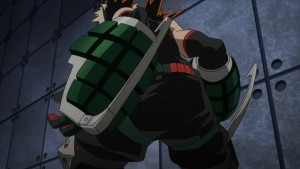 There's quite a contrast at play here.  Bakugo isn't remotely interested in being a good teammate – while Iida redefines "earnest" and babysits the target, Kacchan is really only concerned with kicking Deku's butt.  Deku, meanwhile, is trying to win the game, to succeed at the task he's been assigned to do.  And since he knows the consequences of using his quirk he can only try and do so by using his brain, which means not just using his otaku knowledge about Kacchan, but using Kacchan's raw aggression against him.  Kacchan isn't remotely interested in Ochako, for starters, which means she can scout out Iida's location without the threat of any interference from Bakugo.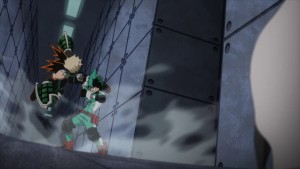 All Might, meanwhile, has the unenviable job of watching from a distance and trying to decide when things have gotten out of hand.  This is personal for him too, which is probably what stays his hand long past when he knows that as a teacher, he should probably disqualify Bakugo and declare the hero team the winners.  Bakugo unleashes his quirk using his high-tech costume in a manner that could certainly have killed Izuku if he'd connected, under the flimsy reasoning that "If I miss, he won't die".  What seems to make him most angry about all this is that Deku refuses to use his quirk – indeed, that he's had a quirk all this time and never shared it.  The message Kacchan takes away from that is that Izuku is taking him lightly – and Kacchan cannot accept being taken lightly.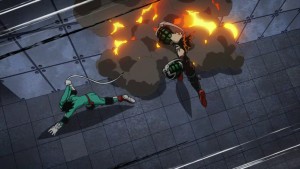 So who's the "winner" here, in the end – the guy who gets the points for his team, or the guy who's put the other guy in the hospital?  Again, I don't want to make this too philosophical but I really think Horikoshi is asking some interesting questions about the nature of heroism here.  Bakugo is strong, fearless, confident – all theoretically admirable and heroic qualities, and indeed Deku idolizes him for them.  Deku is weak, anxious and unsure of himself – but he jumps in anyway, because it's the right thing to do.  Which one is the real hero – or are they two faces of the same coin?  It's Yuuei's job to find out the answer, I suppose, and that journey is just getting started.