Welcome back, UshiTora – feels like you never left.
OP:"Shuukawari no Kiseki no Shinwa (週替わりの奇跡の神話)" by Kinniku Shoujo Tai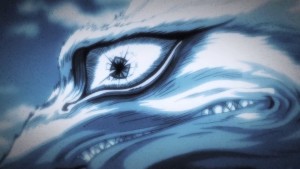 It's looking like a pretty strong Spring, with some intriguing titles to follow later, and Winter has given us two shows that would tank among the best in any normal year.  But as I said in my post after the season finale of Ushio to Tora, it would take unusual circumstances for this series not to finish the year in the Top 10 list.  That may seem excessive to some snobs out there who look down on a battle shounen as a trifle, but what this series brings to the table is my no means trifling.  Ushio to Tora is an exceptional shounen, a relic of another time in the genre that doesn't feel the least bit stale.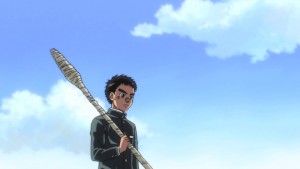 I give enormous credit to MAPPA for letting this series be itself and not trying to contemportize it in any way.  That took guts and probably involved resisting some pressure from the production committee, but I fear that modernizing UshiTora would have smothered it, snuffed out the essence of it.  Yes, there are some elements in the series that are distinctly of another time, but even if we recognize them as such they're part of what gives the series its massive charm.  Ushio and Tora is not timeless in the way a Mushishi is, but rather thrives by being the epitome of a certain time in manga and anime – and in the stark contrast it provides with what they've evolved into.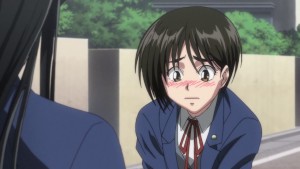 The one element in UshiTora that is timeless is its abundance of really interesting and relatable characters.  Good and evil may stand out in starker relief here than we're used to these days, but they still drive many a story today.  The leads in this story are children, let's not forget, and indeed Fujita-sensei and Nishimura-sensei make sure we don't.  The opening scene of the season is deceptive in terms of where the story is going – Ushio and Asako meeting in a blizzard of sakura (a nice homage to the calendar) and engaging in their usual head-butting.  But the moment when Ushio realizes "next year might not come for me" is heartbreaking.  Ninth-graders – no matter how heroic – shouldn't have to think about stuff like that.  Ushio should be worried about which girl to pick (sadly, a foregone conclusion) and drawing his manga, but there's a matter of world destruction that only he can prevent to consider.  It sucks.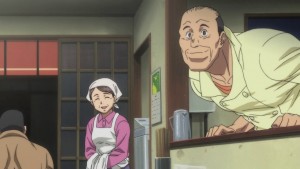 I love the way this story has evolved into a pure battle between empathy and hatred, between hope and fear.  There are random acts of kindness scattered throughout Ushio to Tora – like Asako's parents offering Ushio a bowl of ramen even though they've forgotten who he is.  And Mayuko, my goodness – kindness is so imbued in her nature that there seems no end to it.  It's quite fitting that she's taken in the desolate Kirio, because no one could be better suited to show a child who only knows love as a weapon of deception and manipulation what the real thing feels like.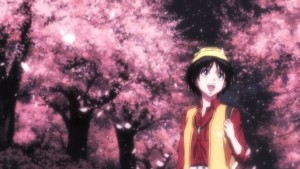 The worst possible thing for Hakumen no Mono (who, by the way, is one of the best villains in shounen history) is hope – and the idea that humans and youkai should once again set aside their differences to battle the Hakumen is fraught with hope.  So Hakumen acts, sending out its Hiyou to devour the memories of Ushio and Tora from those close to them.  The terrifying nature of this development for Ushio is brilliantly brought to life, as is Ushio's profound relief and joy that Tora at least still remembers him.  Asako has certainly forgotten him, but Mayuko perhaps not – and after both are taken prisoner by youkai now in the unwitting service to Hakumen no Mono, she admits to Asako that she sits at home crying over the fact that it's Asako who Ushio (seemingly) loves.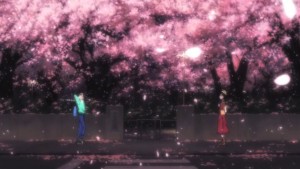 As we know, there are no throwaway characters in Ushio to Tora, and many familiar faces make their reappearances here.  Almost all of them have forgotten Ushio and Tora apart from Saya, who uses her barrier to shield them when things are looking darkest.  The time-traveling demon Tokisaka has remembered too, and shares a terrifying vision of a future he's seen in his latest travels.  The odds against the prevailing of good seem insurmountable here, but what's a good shounen final battle without insurmountable odds to overcome?
ED:"Kessen Zenya (決戦前夜)" by LUNKHEAD