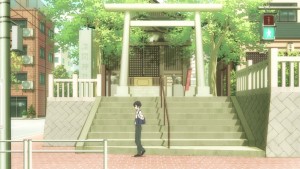 In contrast with Shounen Maid, here's another series that's in contention for best new series of the Spring that's facing an entirely different problem.  Rather than reflexive dismissal as something it's not based on first impressions, I think Tanaka-kun is largely being ignored.  It doesn't star moe girls (though they are in the cast), doesn't involve an afterschool club, and generally doesn't seem to have a natural slice of the commercial pie.  As if that weren't bad enough, it's a show about listlessness.  And all that amounts to a pretty big hurdle for any series.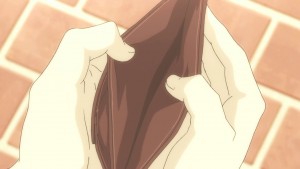 Well, folks don't know what they're missing.  Not only is Tanaka-kun both really smart and really funny, I think it actually has a lot to offer genre fans – especially since it crosses over into several different genres. It's not an easy series to pin down, but it is exceptionally well-produced by Silver Link – capturing the essence of the manga while adding a lot of imaginative and hilarious anime-specific twists.  In some ways the visual style reminds me of vintage Brain's Base (that would have been the other studio that seemed like a logical fit) but the final product is wholly Silver Link.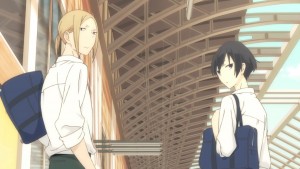 Speaking of moe girls, Tanaka-kun introduces its very own this week in Miyano-san (Takamori Natsumi).  One might argue that Tanaka-kun was pushing his luck by going to the Shrine (and by the way CR, shame on you for translating "Jinja" as "Temple") to pray for an uneventful day when things already seemed to be going pretty good on that score, but the diminutive Miyano puts any notion of uneventful to rest.  She's completely over (under?) the top, a genki girl on speed – but she certainly makes a contrast with Tanaka-kun…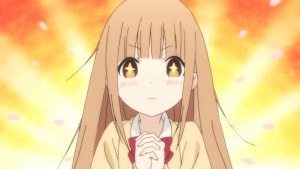 So who is this person Miyano seeks to be kedaruge to impress?  Stay tuned on that one, but the joke here is pretty good – as I said last week, a sort of Buddhist koan about laziness.  It's hard work for Tanaka-kun to be so listless – yet to do hard work is contrary to listlessness.  "I'll try my best not to try my best!" doesn't really fly, but it's an effort at least (oops – effort, that's no good).  Poor Tanaka's hopes of an uneventful day are run roughshod over by the pint-size apprentice, for which he's quite peeved with the Gods (later he's about to trek all the way to Izumo to rat them out to their boss, but Ohta stops him before he gets hopelessly lost), but eventually Miyano does achieve a kind of kedaruge transcendence – but only because she's distracted by a growing obsession with who's inside tiny mascot costumes.  Oh, to have the attention span of a gnat…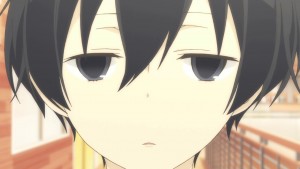 Tanaka-kun, on the other hand, is the real deal.  He estimates that of the three base desires, sleep sits at 80% for him (we can see where food ranks – as for the third, there's no indication yet that it even registers).  What he envisions as his personal Buddhist paradise, Ohta imagines as (literally) a prison cell – which is actually why these two complement each other perfectly.  He may not spend his time conversing with the north wind like kedaruge-Miyano (even that would be too much work) but Tanaka-kun is so listless that he can't be bothered to be hungry even when he's hungry.  Now that's enlightenment.