Bungou Stray Dogs was not a series I expected to be on the fence with, even this early in the season.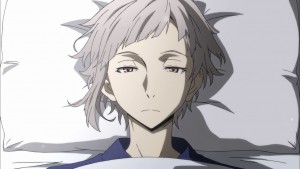 I think it would be way too harsh to call Bungou Stray Dogs a disappointment, and not only because it's way too early to make a judgement on it – it's not off to a bad start by any means.  It's really just a matter of expectations.  The other series I was counting on have met them, and a couple (Tanaka-kun wa Itsumo Kedaruge, Shounen Maid) exceeded them in their premieres.  Bungou Stray Dogs was not a sleeper for me – along with Boku no Hero Academia and Joker Game it was probably my most anticipated new series of the season.  And so far it's the only one that hasn't quite clicked for me.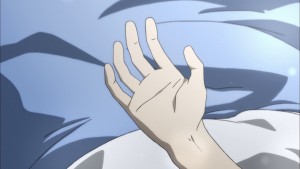 Why is that?  Hard to say.  It's in part no doubt the style of director Igarashi Takuya, which is hit and miss in more ways than one.  He's a believer in big, broad gags, and ascribes to the notion that if you throw enough of them at the wall some of them will stick.  And Igarashi hasn't generally been connected with me, even in the widely-praised Ouran Host Club.  I still think the outsized, grandiose nature of Bungou Stray Dogs (in both setting and characters) might be the right fit for Takuya, but I don't know if it'll be the right fit for me.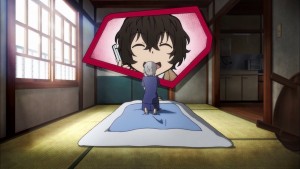 In the final analysis I just don't care as much about the cast as I want to and I'm not as interested in the plot as I want to be – not yet. I appreciate the unapologetic silliness of the series but it would be a big help if anything or anyone in it starts to emotionally resonate.  I like Atsushi well enough, and Dazai is a modestly funny guy and a good vehicle for Mamoru Miyano to cut loose as only he can.  But Bungou Stray Dogs is not closing the deal with me – the overly broad comic tone undercuts any sense of real threat, and the humor isn't consistently successful enough to carry the show on its own.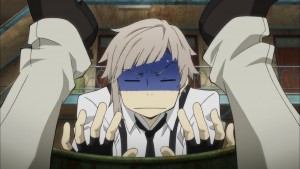 There are a couple of different ways I could see this show turning the corner, if indeed it's destined to.  Someone in the supporting cast (who we've barely met so far) could stand out in a big way.  Maybe as we get to know Atsushi and Dazai a little better (why is he so intent on committing suicide?) they'll close the emotional gap with the audience.  Or maybe the relentless and unpretentious nature of the series will wear me down and I'll find myself caught up in it more than I am now. But I was hoping not to have to rely on such possibilities after two episodes.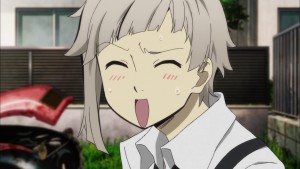 As to this ep itself, I'd rank it about on a par with the first one.  This time around Atsushi is grappling with his future, unconvinced he can be of any use to the Armed Detective Agency, and Dazai tricks him into testing himself in a fake hostage situation.  We meet member Tanzaki Junchirou (Toyonaga Toshiyuki) and his brocon sister Naomi (Omigawa Chiaki, who seems to have dropped off the map lately) as the principal actors, as well as agency president Fukuzawa Yuichi (Koyama Rikiya).  It's all pleasant enough and occasionally funny, but has a by-the-books feel to it.  I'm going to give Bungou Stray Dogs quite a bit of time to close the deal, not only because of expectations but because it's a split-cour show.  But for now, it's the most surprising entry on the bubble list.