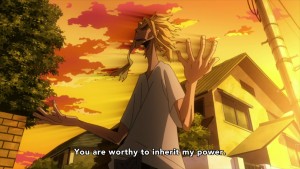 In many ways, I think Boku no Hero Academia is like the perfect Platonic ideal of a shounen manga (and now anime).  That doesn't mean it's the best (in a demographic with Hunter X Hunter and Rurouni Kenshin just for starters, I would never make that claim), but it may just be the purest.  I believe Horikoshi Kouhei is one day going to write a series that's full of intricate plotting and deep psychological intrigue, and stretches the boundaries of the shounen demographic – and it will probably be a better series that Boku no Hero Academia.  But I don't think it will exemplify what the word means as much as this series does.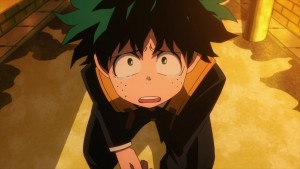 BnHA is, to me, the essence of what it it is about shounen that I love – passion, GAR, manly tears, brotherhood, mentorship, overcoming physical hardship.  It's the work of a young writer full of the energy of youth (in my mind I can almost picture Togashi and Horikoshi on the beach as All Might and Izuku – "Young mangaka are amazing!").  And now, in the capable hands of Nagasaki Kenji and Bones, it's coming to life on the screen exactly as I imagined it when reading it on the page.  Weekends are a serious embarrassment of riches for me as a manga fan, full of faithful and clever takes on series I was lucky enough to discover.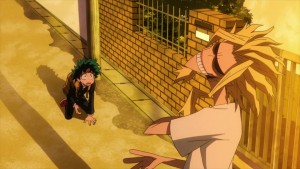 The metaphorical nature of Boku no Hero and hero shounen is hard to miss, because this is a series and a genre all about moving mountains both literal and symbolic in order to chase your dreams.  The thing about Izuku and All Might is that they're both so damn easy to root for.  How can you not love the world's top superhero who bemoans the fact that heroes are too proud to pick up trash?  All of Izuku's life he's been waiting for someone to tell him it was enough for him to be heroic of character in order to be a hero and it fell to the hero he worshipped most of all to say the words.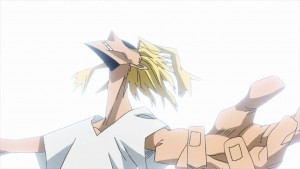 This is the nature of All Might's quirk – "One for All".  It's that most democratic of quirks in that it's merit-based, not inherited – and it truth, it's not All Might's quirk at all (he's just borrowing it until he chooses a successor).  As such, it's the perfect quirk for Deku, who makes up for his lack of inborn powers with a willingness to do more than anyone else.  All Might's challenge to him is simple – the "Aim to Pass: American Dream Plan!" to get into the great hero's alma mater, UA (Yuuei) Academy. And the nut of that plan?  Clean up decades worth of trash at "Dagobah Beach Park" (let's not forget Deku also goes to "Alderaan Middle School").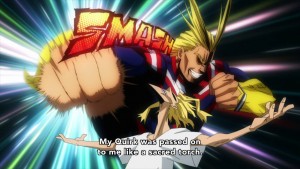 In a sense one could look at this as a training arc crammed into one episode (for the record, it was just about the same pace as the manga) but in a series that's more or less about hero training as a central theme, it's more of a "preschool" exercise.  The issue is Izuku's body, which is not nearly so heroic as his sprit (a Daiki Yamashita specialty).  It can't handle All Might's power, so as the superhero rides around on a Segway the boy busts his ass hauling refrigerators (and superheroes) in a grueling regimen.  Deku being Deku he makes it even more grueling for himself, which earns him a scolding from All Might.  But Deku being Deku you know he'll get there in the end, and the reward is a literal taste of All Might's power (unappetizing though the process might have been).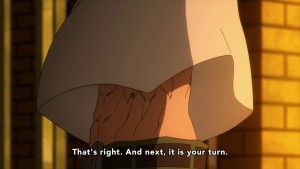 The bond between All Might and Izuku is one of the supporting pillars of Boku no Hero Academia, and it's really on display in this episode.  Both of these guys are true heroes in terms of their character (which is actually the point), with much more in common than meets the eye.  As hard as All Might is on Izuku he's never cruel – he's doing this because he has to, and because it's truly what Izuku wants.  Two sides of the same coin, these two – one of the best relationships of their type in modern shounen.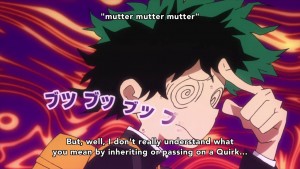 With that it's on to Yuuei, and obviously a major transition in the story.  Kaachan is there too of course, as are a bunch of faces that will become familiar – starting with Uraraka Ochako (Sakura Ayane) who gives us a little taste of her quirk when Deku trips over his own feet on the way to the entrance exam (he's almost more excited to have "talked" to a girl than at getting a quirk).  The teacher who introduces the examinees to Yuuei is Present Mic (Yoshino Hiroyuki), and the one attendee bold enough to interrupt him Iida Tenya (Ishikawa Kaito).  This is where the real magic starts – at Yuuei with its endless cast of memorable characters.  As great as the first three episodes have been, there's so much more to come – which, I think, it why Shounen Jump is being so careful with Boku no Hero Academia by starting off with one cour.  There's a reason why this series has become a poster child for a new generation at WSJ, and anime viewers are about to experience it first-hand.