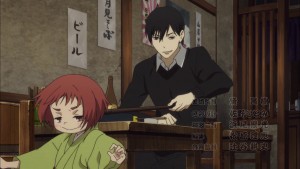 I've talked a lot about the symmetry between the two pillars of this season, Boku Dake ga Inai Machi and Shouwa Genroku Rakugo Shinjuu (enough to where you're probably sick of it).  It's funny, though, just how much watching the one often puts me in mind of the other considering how different these two shows are in many ways.  I can't help but think of the flak Boku Dake has received over the fact that it's "mystery" was so easy to solve, while Rakugo Shinjuu (rightly) receives little for its predictability.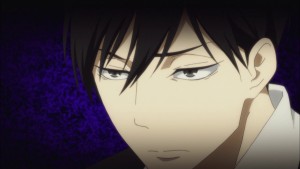 What I'm getting at here is this – Shouwa Genroku is functionally a tragedy, a dramatic form where the ending is known basically from the earliest part of the story.  It comes down to expectations – no one expects this series to deliver mysteries and plot twists, but they do expect it from Sanbe Kei's series despite the fact that while not strictly a tragedy the "mystery" there is no more the point than it is here.  I've often puzzled over why that is – why so many viewers seem determined to read something into Boku Dake that isn't there, but not Shouwa Genroku Rakugo Shinjuu.  Is it a question simply of narrative style, or (as I suspect) does the more modern setting in Boku Dake make a difference too?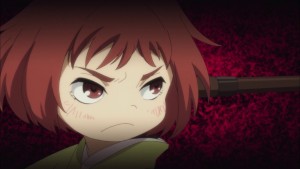 Ah, well – that's all academic, I suppose, and we're here to talk about this series.  And it delivers again this week, as it pretty much always does – quietly poetic and profound, the big stick-wielding Teddy Roosevelt of anime.  Rakugo is the spider web that ties the characters in this story together, but the thing that strikes me is that it's really love that ties them – because what they share is their love for rakugo, not the rakugo itself (I do believe there's a difference).  As fascinating as the rakugo elements are they're most important as a light exposing the souls of the people touched by them.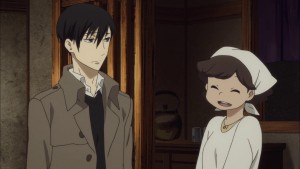 I certainly wasn't surprised to learn that Miyokichi had left Shin and their daughter behind.  One could hardly imagine her as a mother, and she was certainly never in love with the man she married.  Miyokichi is a tragic figure that I've defended resolutely, but I admit she doesn't come off well here.  It's clear she's banned Sukeroku from performing rakugo mostly because it would remind her of Kikuhiko, and even if he's divorced himself from performing it's obvious Sukeroku can never be a whole person (if indeed he ever was one) with that element of his soul stifled.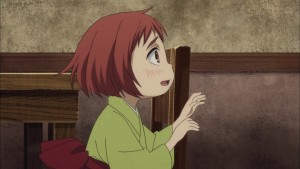 The survival of Shin's love for rakugo in Konatsu is, I suppose, a tribute both to the art and to the depth of his talent for it.  Almost any child would, I suspect, prefer his bawdy populism over Kikuhiko's tightly-wound intensity.  The reunion between Bon and Shin – while several years in the series timeline – wasn't one we had to wait long for, but it still packed a punch.  Kiku lays things out in very simple terms – to be able to keep doing his rakugo, he needs Sukeroku's rakugo in his life.  But there's more to all this, of a certainty.  I don't think Kiku is capable of walking away after he's seen how Sukeroku and Konatsu are living – not as a fan, and not as a brother.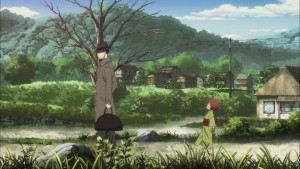 The choice of "Nozarashi" as the performance Konatsu demands from Kikuhiko is an interesting one.  It is, by its very nature, a piece better suited to Sukeroku's style (no doubt that's why Konatsu knows it).  We see Kiku dutifully slog his way through a piece as if slipping into an ill-fitting suit of clothes, slowly getting the moment until he loses his way midway through.  When Shin jumps in we see something that isn't rakugo at all, a two-man performance – but even if not by definition rakugo it nevertheless provides the opportunity to witness two radically different ways for performing the same material.  It's almost enough to make one imagine Rakugo Shinjuu as a Manzai series.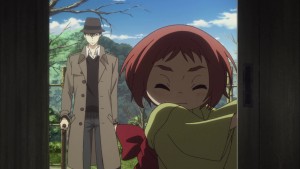 While there are in fact two episodes left, it seems very likely we're approaching the moment of truth at last – the tragic apex of this long flashback.  Yotarou has been conspicuously absent since the premiere and must surely be destined to appear in the finale, so next week's ep might just be the true ending for this portion of the story.  The spark of sentiment and mirth this week feels like a mirage, a false hope, for we know how this is going to end.  Yet whatever happens, rakugo lives on – not just in Kikuhiko but in Konatsu (in whom not just rakugo but Sukeroku's rakugo resides).  Next week should be morbidly fascinating to say the least.