Well, that was certainly one direction they could have gone…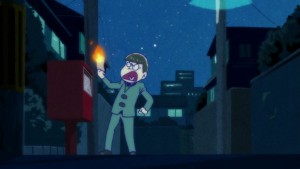 So much for any semblance of the serious ending I was admittedly sort of hoping we'd get.  I understand the thinking behind this episode, a kind of "to thine own self be true" approach.  After all, a comedy getting serious in the end is a kind of anime cliche in itself, and Osomatsu-san is all about busting anime cliches.  The only reasons I'm a bit disappointed are first that this series has been so resolutely irreverent for two cours that a slightly serious finale would have been a real twist, and second that on the rare occasions it has gone serious, Osomatsu-san has done so really well.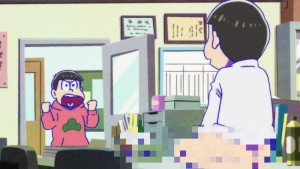 C'est la vie.  Last week's episode being a troll was always a strong possibility, and probably the one most in-character for this show.  And if you're going to go comic for the finale, better that it be over the top – and this certainly was, though that's a pretty high bar to shoot for after those first 24 eps.  The die was cast after the first two minutes of the episode, with the whole conceit of the letter blown up and everyone summoned back home for "The Invitational" – which poor Matsuzou never did get an explanation for.
This was one of those Osomatsu eps that was, alas, pretty much pointless to try and blog in any systematic way.  It was just an endless parade of increasingly silly gags surrounding what I guess was a kind of Koushien trope parody, culminating in perhaps the most gloriously stupid school song I've heard this year.  A few comic highlights were: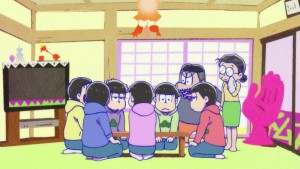 I think special mention also has to go to the ED sequence, which was a sensationally clever mash-up of the first and second EDs, and managed to work pretty much every seiyuu that was involved in the series into a prominent role.  I've never seen that done in quite that way before, and it marked a fittingly ludicrous and clever end to a ludicrously clever series.  If anyone told you this was the show they were expecting when Osomatsu-san premiered six months ago, they're almost certainly a liar.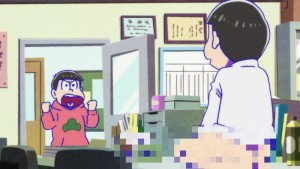 That brings us to the question, of course, of what's next for Osomatsu-san.  This series is on-track to become one of the half-dozen or so best-selling TV anime of all-time on a per-volume basis.  There's no source material to run out of.  So it seems pretty far-fetched to imagine that it could possibly end after one season – anime economics just doesn't work that way.  We didn't get a S2 announcement at the end of this episode, only a "See you sometime".  But I have to think it's really only a matter of when that sometime is.  I could see where a show like this, as relentlessly inventive as it is, could be really difficult to write.  And that same lack of source material to run out of also means the staff has to create every episode from scratch.  These guys might some time to decompress and build up a reserve of ideas, but it seems certain they'll be back.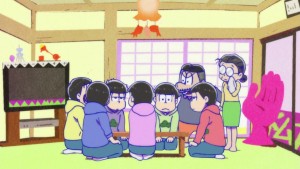 I, for one, hope they are, and soon too.  Osomatsu-san was a sleeper pick for me in Fall 2015, though I certainly didn't expect either the edgy lunacy or phenomenal popularity we've gotten.  Not only is Osomatsu-san one of the best and unlikeliest success stories anime has ever seen, it's also a damn fine show.  It honors the comedy Hippocratic Oath of "First, be funny" with religious fervor, delivering a sheer volume of big laughs in two cours that would be hard to top.  It never lost its nerve, and even managed to be thought-provoking and emotionally impactful when it tried to be.  The greatest and most powerful comedic formula, in my view, is the combination of very smart and very dumb humor, of highbrow and lowbrow – and Osomatsu-san is a master of that formula.  It's been a great ride, and I can't wait to go around again.
ED Sequence: