Ah, Totty…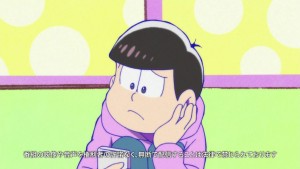 Well, if you build an episode starring Todomatsu and Iyami, it's pretty much money in the bank with me – these are the two best characters in Osomatsu-san as far as I'm concerned.  And it didn't disappoint, with two chapters that were as different as chalk and cheese except when it came to being abjectly hilarious and oh, so very wrong.  I think Fujita and Matsubara are going to need to take a couple of seasons off just to have time to think up more ways to offend people.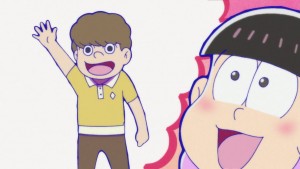 I love Totty partly because he's Totty as Totty is written, and partly because Totty is Miyu Irino.  Obvious the main six in Osomatsu-san are all big-time seiyuu, but I really think Miyu operates on another level.  Guys like Sakurai and Fukuyama can definitely act, and they can definitely be funny – but the difference is, Miyu-san can do both of those at the same time in a way the other guys in the cast can't.  That makes him perfect for Todomatsu, who really has the most pathos of any of the brothers.  He's right – he's really the only one who has a chance to drag himself out of the social hell the brothers are in, and into purgatory at least.  But he's got five pairs of hands dragging him back down every time he tries.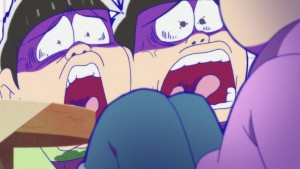 This chapter poses an interesting question – just which of those brothers would you take to a mixer?  My initial read was the same as Todomatsu – Jyuushimatsu – but his permanent boner made that impossible.  They really are a nightmarish murderer's row of bad choices, this bunch – in the end I might have taken Choromatsu, just because he's the one brother with a sense of shame and he might have enough of it not to make a complete ass of himself.  But Totty – after an intervention by the Goukon-kami (Ootsuka Houchou) – decides to play it safe by taking the "top tier" Atsushi (he has a car!) which pretty much consigns everyone else at the mixer to virgin status for one more round.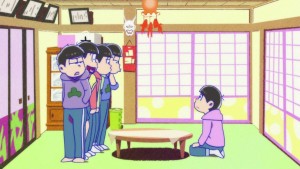 That takes us to the hilarious "Final Sheeh!" which finds Iyami and the Matsu boys at an izakaya.  There, an elderly martial artist ("Cheeh!") sees Iyami in his signature pose and decides he's the master of the "Sheeh Fist" and thus, the perfect man to save his homeland of Akaatsuka (yet another loving homage to the original mangaka).  How?  The rule of the country is decided by a martial arts tournament every ten years, and corrupt bad guys are fixing to win it this time.  Enter the Iyami…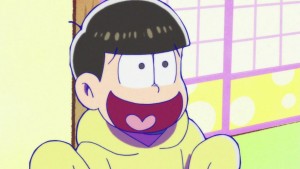 I think everyone you need to know about where this skit is operating can be summed up in the fact that it concludes with Dayon being dropped into the stadium by a huge bird and removing a cover to reveal a giant pink turd on a platter.  This is Osomatsu-san at its flat-out gleefully stupidest, a mixed bento of various parodies and general nonsense.  That it should end with the complete destruction of the Earth only seems appropriate, somehow.  I'll just leave you with this as a memento of our planet.