Every so often, a subbed Hoozuki OVA pops up to remind us just what a marvelous series this is.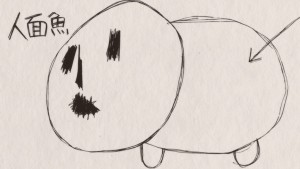 Something very strange is going on with Hoozuki no Reitetsu – and I'm not talking about the fact that this odd, esoteric philosophical absurdist comedy became a massive commercial hit.  Why in the world haven't we had a second season announcement?  There should be plenty of source material, and the show was easily the biggest commercial hit of Winter 2014 and one of the biggest of the year.  I don't recall another manga adaptation that sold upwards of 20K per volume being stalled this long waiting for a sequel unless there just wasn't enough material.  I know Wit isn't the largest studio in the business but as basically a Production I.G. imprint, they should certainly have been able to get on a second season after two full years.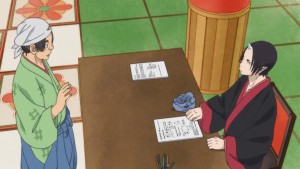 Sadly, this was the last of the announced OVAs for Hoozuki no Reitetsu.  And at that, it was a good six months since its release before it was subtitled.  It was absolutely worth the wait, though – a refresher course on just how much awesomeness is packed into this quirky comedy.  It's beautiful to look at, every insert song (and there are a lot of them) is stellar, and it's consistently smart and hilariously funny.  There's a relentless intellectual curiosity running though Hoozuki no Reitetsu that I find enormously appealing – it's clear mangaka Eguchi Natsumi is fascinated by a great many aspects of human culture and the natural world, and uses the series as a means to explore them.  It's a great thing to be able to share that experience.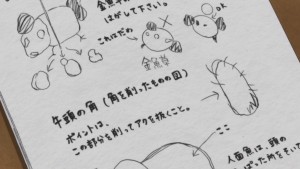 I think this might have been my favorite of the three OVAs, though they were all excellent, as you'd expect.  In the first place even among this deep cast of comic creations, the Nasubi-Karauri branch is one of the best, especially when Nasubi is going on about art.  I think art is very much integral to what Hoozuki no Reitetsu is – the visual style is pulled directly from religious art, and it's a theme that runs through many chapters, obviously one of the pursuits that interests Eguchi-sensei.  Hakutaku, as it happens, is a terrible artist – or at least he seems to be.  But I have to admit by the end of the episode, Nasubi almost had me doubting myself.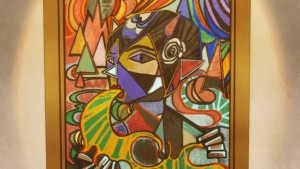 That Nasubi is actually a very good artist given his goofball persona is funny and interesting, but in point of fact he shows himself in this episode not to be some kind of idiot savant, but someone who's actually quite thoughtful and knowledgeable about art.  It's clear that Nasubi-kun is at heart a surrealist, and he has a surrealist's eye for the challenging and grotesque.  "If you want realism, take photographs" he tells the self-admitted layman (and he plays the role beautifully) Momotarou – and while I'm not at heart a true surrealist to the degree Nasubi is, I find myself in agreement on this.  Art shouldn't be about reproducing reality as closely as possible – it should be realty as reflected through the lens of the artist's soul.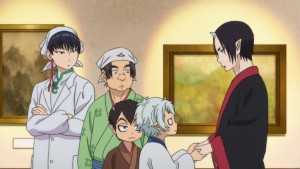 Nasubi as art teacher is pretty disastrous, but not – as you might expect – because of Nasubi.  The adorable little eggplant does a pretty yeoman job of it actually, but it's Hakutaku that's the issue.  Still, the two of them hit it off aesthetically (only Nasubi sees Bai Ze's true genius) and proceed to unleash upon the world a series of increasingly creepy (and huge) cat(ish) shikigami (or as Nasubi calls them, "performance art").  Nasubi's are surrealist nightmares, and Hakutaku's are effectively purring stick figures.  And of course, Hakutaku and Hoozuki feud interminably as they always do.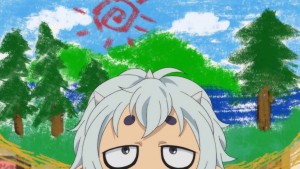 There are, as always, lots of ruthless gags here (like the 2-D waifu bit, and Hoozuki's "I don't acknowledge that as an animal").  And the Zashiki-Warashi make an appearance in the B-Part, showing why Hoozuki doesn't take them out of the house too often.  I'd also call attention to the wildly creative ED sequence, which is yet another fantastic song in the seemingly endless Hoozuki catalog of them.  I can't imagine this will be the last we see of Hoozuki no Reitetsu in animated form, as successful as the series is, but my God – what a crying shame it would be if that were the case.  It's time for Wit and the production committee to get off their asses and get to work on a second season.