That was a Haikyuu fan's Haikyuu ep if ever there was one.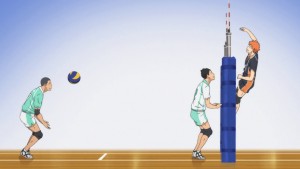 The theme of late seems to be very much series delivering what was expected in an entertaining way.  Suspense and surprises are wonderful things, but this anime season is certainly proving they aren't vital to a series' success.  That plays to Haikyuu's strengths, because this is a show that generally stays true to it's relentless momentum pushing it down a predictable path.  This season pretty much had to end with Karasuno beating Seijoh by every law of shounen, and it did – but the volume was certainly turned up to 11.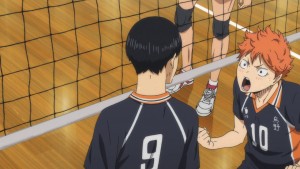 It's episodes like this one where Haikyuu!! earns those exclamation points, and it threw everything into the blender for sure.  A left-handed spike by Kyotani, a ridonkulous mega-set by Oikawa, last-minute substitutions left and right, more dives than a World Cup football match.  You know what you're going to get here, but Haikyuu!! has another gear in reserve for episodes like this – the animation gets even crisper, the music more insistent, the spectacular feats of athleticism more Shounen Jump-like.  It delivers an adrenaline rush like few series before it.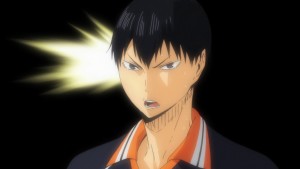 I would still contend that Oikawa is the best player on the court in this match, and despite heroics from others on both teams it's he who most imposes his will on the game – that full-width desperation set (which even included pointing out his target), his fearsome serves, his leadership.  That's ironic given his constant mantra that it's the "six good players" that matter, not individual brilliance – though there's no denying his teammates are very good.  This game is basically a coin-flip in the end – the two teams are as evenly matched as it's possible to me.  Remember, despite all the talk about their growth the Baby Crows came within a point of beating Aoba Johsai the last time they played.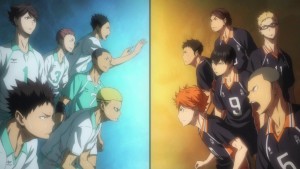 That said, those hatchlings certainly have improved.  Shouyou is showing far more versatility and focus, Kageyama continues to develop audacious nerve (nice dump) and spare parts like Tadashi have become useful pieces.  Speaking of audacious, to take out two players – including the libero – on match point against was certainly ballsy by Ukai.  But in my limited volleyball awareness, I still haven't quite figured out why Suga almost never plays.  Karasuno just seems more versatile and dangerous when he's on the court – he's a good server, he causes the opponent to hesitate about where the set is coming from, and he's bitchin' at blocking spikes with his face.  With a setter as athletic and tall as Kageyama, I don't know why Sugawara as an option is almost always ignored.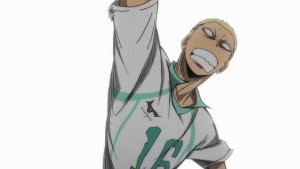 In case you missed it, there was an announcement this week that a third season of Haikyuu!! would begin airing this Fall.  My friends who've read the manga seemed to think there wouldn't be enough source material for another two-cour season quite this soon, so it'll be interesting to see how the anime deals with pacing and original material.  I'm assuming this season's finale isn't going to dive into the final match against Shiratorizawa, but rather be an epilogue for Seijoh – they, not Shiratorizawa, were the white whale of this arc after all.