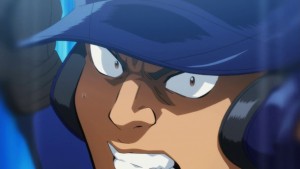 The only dilemma for me is next week, really.  I'm done with Diamond no Ace, obviously.  I'll watch the final episode and blog it, of course, because it just isn't conceivable (I think – I reserve the right to change my mind) to cover a series for 120-whatever eps and not blog the last one.  But it'll be a snippet post, and there will be no picking up the story with the manga. If the second phase of the manga gets an anime I won't be watching or covering it.  And at this point, I can honestly say I'm sorry I ever did.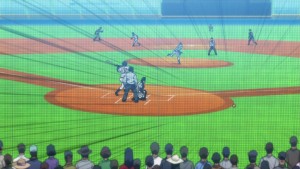 I can't possibly imagine I need to rehash all the reasons why what happened in this episode was an atrocity, a slap in the face to anyone unlucky enough to have been following Diamond no Ace.  I can't say it shocked me, and since a commenter on the "Orphans" post spoiled the ending, it didn't even surprise me.  But it's a flaw in my nature that I always let the good things about this series spark a little hope in me and I never stopped hoping what happened here wouldn't happen.  Terajima, you've screwed me over for the last time.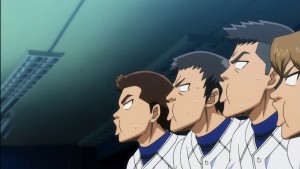 The only other question, I suppose,would be what I'm hoping happens as I skim through the finale next week.  The answer is that I'll be hoping Yakushi wins, of course, but I know there isn't a snowball's chance in hell that happens.  Truthfully, there's no realistic scenario that could play out that would leave me feeling anything but disgusted and dismayed  Even if that's not a total surprise that doesn't mean it's not a disappointment.  I guess it's time to start marking Xs on the calendar until Battery premieres in the Summer – it shows every sign of being  a baseball-themed series that doesn't completely troll its audience and massively punt its ending.