There – you see?  Good things happen when you DON'T SLIDE INTO FIRST BASE!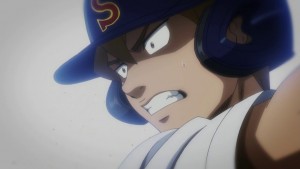 Well, that was pretty damn tense.  For all the times it's driven me crazy, the reality that Diamond no Ace really is ending in two weeks is starting to hit home.  We've been together for a long time – one of the longest continuous runs of any anime I've ever watched.  I've always looked forward to new episodes of Daiya even when I was pissed off at it, because I knew it was capable of episodes like this one.  It is sad that it's ending, but I'm happy the series seems to be going out on a high note.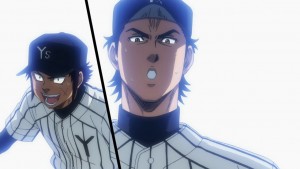 One of the truisms of Ace of Diamond is that when Haruichi opens his eyes, big things are about to happen.  And one of the things I liked best about this episode is the way it so clearly depicted how the tension of the moment was bearing down on everyone.  Raizou was obviously feeling it, as a relatively inexperienced coach.  Maezono, who's too intense and self-critical at the best of times, was certainly feeling it.  And it really hit home on the faces of the first years, who are really too young to have to deal with a moment of this magnitude.  The normally calm and clear-headed Hojo was clearly overcome by that moment, in fact.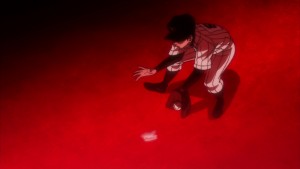 As for Haruichi, he shows the stern stuff he's made of – and thank goodness for Seidou, too, otherwise the game's over.  That little glance over at Miyuki sent a very clear message if Haruichi was smart enough to read it – Sanada wanted no part of the guy in the on-deck circle.  And knowing that, Haruichi did exactly what he should have and smacked the first pitch as Sanada tried to get ahead of him (and he doesn't even blush when he gives his trademark bashful fist pump).  Not only that, he stole second on the first pitch to Miyuki – taking advantage of the hard work of the scouts.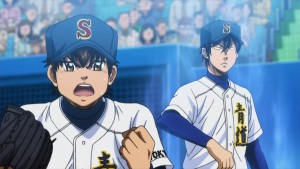 The downside to that?  It left first base open, giving Raizou the option of walking Miyuki – and given that Yakushi doesn't know about his injury, one could strongly argue they should have.  But they didn't, and I'll give Miyuki credit for acknowledging his own physical condition and not trying to play the hero.  And even more, for NOT SLIDING INTO FIRST BASE.  The ensuing scenario was interesting – most teams won't throw through to second with the tying run on third, so Miyuki running was a good gamble.  And clearly, all this aggression has taken Sanada off his game.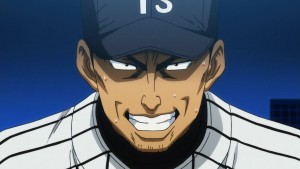 That leaves the game in the hands of (gulp) Maezono, with the tying and go-ahead runs in scoring position.  But he quickly falls behind 0-2, leaving little temptation for Raizou to walk him.  Clearly Maezono is going to do something here – Seidou is either going to tie this game or take the lead.  And as if to remind us of the real stakes, Eijun and Furuya are down in the bullpen side by side – the decision on how this series is going to end is on (gulp) Kataoka's shoulders now.  It's been a really good run of episodes for Diamond no Ace – I sure hope he doesn't ruin it.