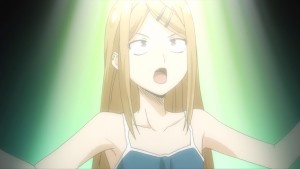 After the relentless intensity of Boku Dake ga Inai Machi (both the experience of watching it and blogging about it), a show like Dagashi Kashi is the perfect chaser.  It's not at all demanding (in a good way), it's a veritable antidote for stress (as long as you don't read the comments by the manga readers), and it delivers simple rewards every time out.  It's like a show that's all about sweets with just a hint of sour kombu to keep it from becoming cloying (actually, that's literally what it is).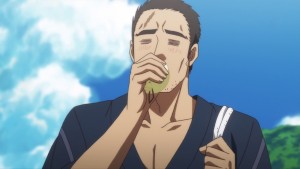 I have no idea how much of this episode was canon material, but my suspicion is that it's probably another one manga readers won't be too happy with.  There seems to be a fierce resistance to anything that flirts with seriousness or emphasizes continuity, and this episode certainly does both.  We actually got a little bit of introspection from Hotaru of all people, and as far as I remember that's pretty much a first.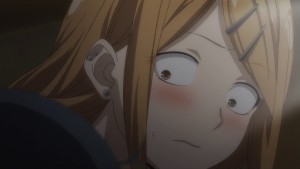 The first chapter is pure upbeat charm, as Fujiwara Keiji again proves why he might just be anime's favorite dad.  There hasn't been much talk about Hotaru's "mission" since the first episode, but it's very much the theme of the week.  Her ploy to hide in a box and spy on You being You was pure Hotaru bakayaroucity, but the point is proved.  You is a bro, no question about it.  We also get another look at Saya's superhuman good fortune at anything game-related, and an interesting moment when she connects the dots and realizes that if Hotaru's theme to steal You away works, that means Kokonotsu stays behind.  I'm not sure Saya realizes the threat Hotaru represents, though (and I know Hotaru doesn't).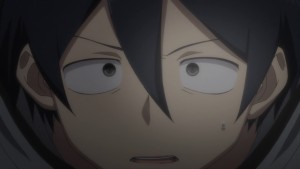 Having spent what feels like a lifetime of interminable waits in rural Japanese train stations, I was really feeling the second chapter.  When you live in a place like that (or are just visiting) you really don't want to miss that train. There's a nice dose of the innocently naughty fanservice Dagashi Kashi is so adept at, once again built around the theme of sucking.  Coconuts has such a dirty mind (as in, he's the normal one) and Hotaru just can not buy a clue.  But I sense more than just adolescent horniness in Coconuts – I think he really does feel a special physical attraction to Hotaru.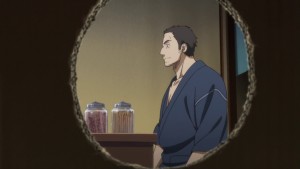 I think the funniest moment of the episode is Hotaru's description of Perry introducing lemonade to Japan (I did not know Ramune was the Wasei-eigo of "lemonade"), especially Perry and his aide chanting "Chug! Chug!").  But it's followed up by some fairly serious stuff by Dagashi Kashi standards.  Hotaru's admission that "even she" is well aware of Coconuts' dreams and how they don't necessarily dovetail with her plan is an interesting one.  In a sense the series really does come to clear-cut choices for him – manga or dagashi, Hotaru or Saya, city or village.  I don't think he'll make any in the final episode, but I like the fact that the anime is at least getting them out in the open a little bit.