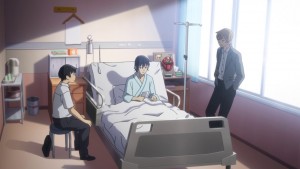 I have everything to say and nothing at the moment, because this has been a pretty draining ride for me.  I've loved Boku Dake ga Inai Machi from the first time I read it, and the anime has lived up to the potential of the manga.  But it's been a difficult transition in some respects, much more so in the final arc than in the episodes/chapters leading up to it.  When you love a series and see many viewers turning on it like a pack of wild dogs, it hurts – even if one could have easily predicted that based on the reaction to the endgame in the manga.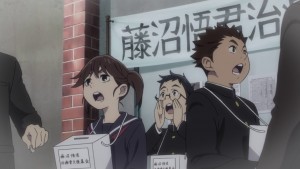 There are so many different angles I could approach this from that it's hard to know where to start.  The first difficult question, really, is whether or not to talk about the differences between the manga and the anime ending.  In that way Boku Dake reminds me a lot of Mirai Nikki, because while the ending of the anime was broadly the same as the manga in both cases, enough changes were made that to fully explore them would amount to spoiling the manga ending for new viewers who might now read it (which I devoutly hope they do).  If I had to sum it up, I'd say Boku Dake made more plot changes than Mirai Nikki, but they ended up changing the substance of the ending less.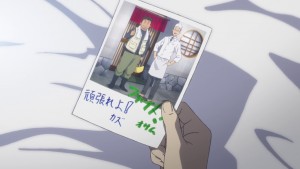 The next thing I should say is that unlike many – perhaps most – I really liked that manga ending.  I think the direction Sanbe-sensei took was bold and challenged the audience in a way that was audacious even for seinen manga (a demographic more willing to be challenged than most).  What Sanbe did was more difficult and held the audience at arm's length more than the earlier parts of the story, and likely wasn't the ending many manga readers were hoping for and expecting.  But it was some of the most interesting psychological exploration I've seen in manga for years, and to me it felt spiritually consistent with the rest of the series even if it was stylistically quite different.  I don't really feel I should say more than that, nor should you in the comments.  Folks should go read the manga unspoiled and judge for themselves.
As to the anime, well, here's the thing.  The truth of the matter is, 12 episodes was a really awkward number for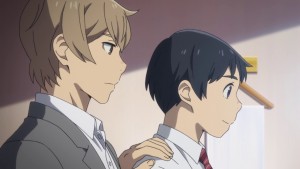 Boku Dake ga Inai Machi.  Like Sanbe, I think Itou and Kishimoto made the bold choice in ending the way they did – adapting the manga's ending but cutting a lot of content to do it.  If this series had been about 16 episodes, it could have adapted everything comprehensively.  If it had been 10, it could have given us an intermediate conclusion at the most audience-friendly moment in the story – with the rescue of Kayo.  At twelve, there was no easy path of least resistance, so – as Sanbe always seems to choose to – Itou and Kishimoto took the hard one.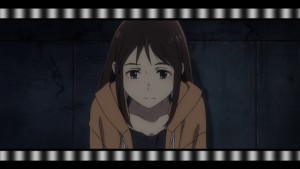 In doing that, by necessity they cut a lot of material, undeniably.  What happened in the aftermath of Yashiro's first attempt on Satoru's life, and a lot of what happens after Satoru wakes up (I alluded to one element of the latter that manga readers seem especially regretful to have lost) especially.  And it does make a difference – though as I said, the general reaction to the manga ending was pretty negative anyway.  The part of this story that's really approachable, that clutches at the heartstrings in a big way, is the revival where Satoru is in his 11 year-old body trying to save his mother and his friends.  Honestly, there was no way Sanbe was ever going to be able to conclude the story in a fashion that would measure up to that in terms of pure emotion.  So he chose instead to go dark and interior, to effectively deconstruct his own story.  When you can't please everybody, don't try to.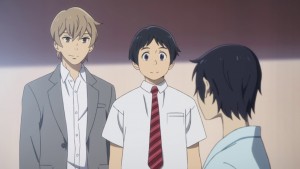 What that leaves us with in the anime is a cat and mouse (or hamster) between Satoru and Yashiro, one that out of necessity moves a bit faster than it ideally should.  I think it could be argued that the last thing Satoru said to Yashiro as that car sunk into the lake was what later saved his life – "I know your future!".  It was that nagging uncertainty that stayed Yashiro's hand for all those years when he could have snuffed out Satoru's flame at any time.  In a strange sort of way there's almost a tenderness to that final scene on the roof, as if these are two old friends saying goodbye to each other.  Yashiro has felt the absence of the impulse to kill as if it were a piece of him that had been ripped away, one that only Satoru could restore.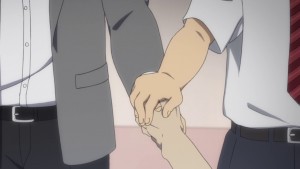 If anything, I would argue that the fact that the anime spent the last two episodes the way it did (in the manga the portion after the "reveal" is even longer) is further proof of what I discussed last week – that the so-called mystery was never the point of Boku Dake.  There are really two central themes here –  a study of Satoru's emotional development and his relationships with those around him, and later, of the psychology of control.  If there is a mystery in this series, it's how and why these "revival" incidents happened – and it's one that neither Sanbe or Itou ever confront directly.  As a metaphor their purpose is clear – their nature is far less so.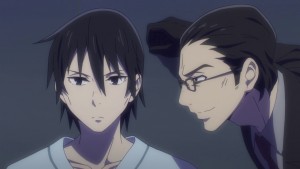 What I think is clear is the degree to which Satoru has grown as a person over the course of the series.  If you look at his first run-through as a basically unbroken chain of events (and revivals were short-lived) you see how the little boy who shelled himself in and shied away from "good buddy" relationships grew into a man who was basically stifled – emotionally and creatively.  That Satoru was someone who never figured out how to express who he was, and was forever haunted by those he'd failed to save.  But after the big jump, everything changes.  The point here, I believe, is that the boy Satoru was needed something of the man he became in order to give him perspective, and the man needed something of the boy to remind him of what it was he truly wanted, and truly loved. It was the revival's miraculous gift of uniting Satoru's past and present that made him a whole person (and a successful writer) at last.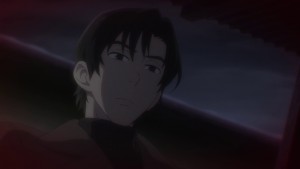 For Satoru, the ending is really about a joint discovery.  First, that he was willing to sacrifice himself if it meant that his mother and friends could have their lives and possibilities back. This is the "town where only I am missing", and it's not a sad place (well, for Sachiko it kind of is) – it's a better place, because of Satoru's actions.  But the second lesson is that Satoru wants to grasp at his own life, to fight for it – that it's OK to latch onto that selfish desire, and that his life is worth fighting for.  The difference between Satoru and Yashiro is always perspective – while Yashiro seems to have Satoru running like a hamster in a wheel for a long time, in the end it's Satoru who sees the larger view while Yashiro is trapped in his own tunnel-visioned reality.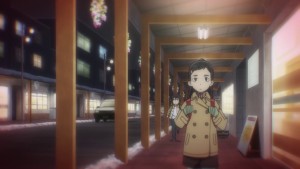 That perspective is what allows Satoru to finally triumph over Yashiro – in a sense, it's a triumph of strategy over tactics (and Yashiro has always been a tactical genius).  It may seem odd to us that in Japan the Statute of Limitations applies even to child murder, but it does – and it's typical "forest for the trees" tactical thinking by Yashiro.  The irony here is that while Yashiro tells Satoru on the hospital rooftop that he should have peace of mind, I think it's actually the other way around – Satoru wins the game, but I think having been bested this way gives Yashiro a kind of satisfaction that it's all been worth it.  The 15 years that passed in a flash for Satoru, but seemed an eternity for Yashiro.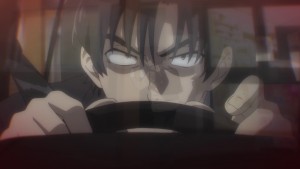 I think the problem with the ending of Boku Dake is that it's not meant to conform to manga and anime strictures, and while none of the series is, the earlier arcs are so amazingly powerful and universal that readers are drawn in anyway.  I think the subversion of expectations works better for the series' approachability when it's showing us an incredible mother-son relationship than when it's showing us the main "love interest" married to the hero's childhood friend.  So in that light what are we to make of Satoru's reunion with Airi?  I think we can only call it fate – and fate is definitely a vital component of Sanbe's universe.  It might not have been the romantic end some wanted, the childhood sweethearts bonded forever – but Boku Dake is no more a romance than it is a mystery.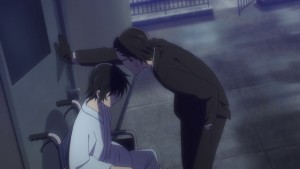 In the end, then, I give you Boku Dake ga Inai Machi.  I've stated my reasons for loving it as I do, tried to present what I see as Sanbe and the anime staff's reasoning for the choices they made, what the source of the some of the disconnect wth the audience is.  Whatever you decide is your choice, but history will ultimately be the judge.  As with any art form, some examples which seem important in the moment are quickly forgotten, while others are long-remembered.  It will surprise no one that I think Boku Dake will be in the latter group – that it's a profoundly incisive and penetrating series whose like we rarely see.  Time broadens our perspective, and I think that broader view will be kind to this series as it reveals the true nature of what it attempted to accomplish – and that it succeeded.
Epilogue: