So – anything happen since last week?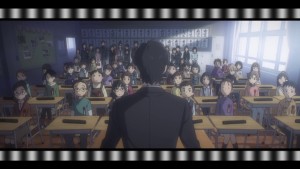 In a way, what I felt like watching this episode of Boku Dake ga Inai Machi was what I felt like when the Red Wedding episode (if you don't get that reference, don't worry about it – it'd take too long to explain) of Game of Thrones.  Part of me was absorbed by what was happening on screen, but I was also picturing in my head the reactions of viewers who hadn't read the books (and if I hadn't been, there would be plenty of Youtube videos to immortalize the moment) – and imagining the shitstorm that was sure to follow.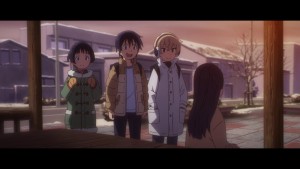 Well – and now, here we are.  And the shitstorm is in full blow.  There are a lot of things I would like to say that in my conceit I'd like to think might enlighten the situation a bit, but once again I'm stymied by circumstances.  Things are about to get interesting in that (as with GoT and A Song of Ice and Fire) we're about to enter uncharted territory for me.  Normally I would say not for a little while yet based on how much of the manga is still out there and my personal stopping point, but we only have two friggin' episodes left.  Yes, I'm saying it flat-out, because there doesn't seem much point in glossing it over any longer – either the pacing is about to get sped up dramatically, we're about to veer off into original material, or a whole lot of stuff is about to be skipped.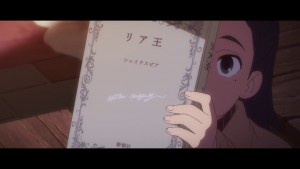 So, obviously, I'm going to be very interested to see where Itou and Kishimoto take things next week, but until I know which of those three roads the anime version of Boku Dake ga Inai Machi takes that's about all I can say on that subject.  So instead, I'm going to tackle a subject I can safely talk about all I want now, and that's Yashiro-sensei.  Yes, he did turn out to be the killer.  And yes, all the clues pointed to him being the killer, and Satoru missed those clues.  Guilty as charged.  But that's not the real story.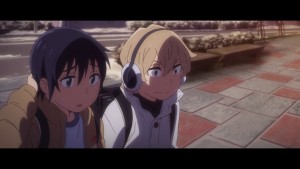 Here was my feeling after having read this stage in the manga (and while it's impossible to say for sure if I'd have felt the same about the anime if I hadn't read it, I sure think I would have).  I don't think Boku Dake is a whodunit.  I think it's a "whydunit" and a "howdunit".  I don't think this series was ever intended to be a mystery, though it certainly qualifies as a thriller because even knowing the truth, it's still full of tension of suspense.  I knew Yashiro was the crook – I first suspected it pretty early, wavered slightly a couple of times, and was pretty much certain of it by about Chapter 20 (which would about Episode 7).  But I'm sure – dead-stock sure – that Sanbe-sensei wanted me to know it.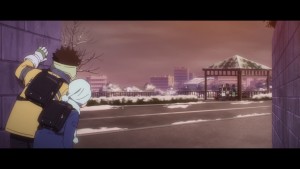 Think about it.  There's never any question that Yuuki could be guilty – Sanbe establishes that early on.  He never makes any attempt to cast suspicion on another suspect (Kenya? Please).  Sanbe doesn't structure Boku Dake ga Inai Machi like a mystery – because it isn't a mystery.  The point here is the emotions and the mechanics of what happens – the interactions between the characters, the way Satoru is changed by his experiences.  The fundamental desire to have faith in people, the nature of loneliness and happiness.  The important point here isn't that Satoru missed all these obvious signs pointing to Yashiro-sensei – the point it to ask the question, why did Satoru not see all those signs?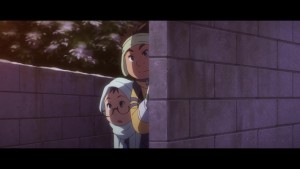 Haters gonna hate, I know.  Anime viewers today are conditioned to think a certain way based on the sorts of anime they normally see, and that's a large part of the reason why I think there's been such a strong reaction (mostly negative) against this latest turn of events.  My suspicion is that some of this will fade, and with the passage of a little time many of the viewers who're angry now will realize that they weren't supposed to have been surprised or shocked by this ep, but rather to have been expecting it.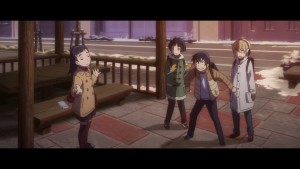 Of course, I think some anime viewers are also pretty freaked out or incensed by what happens after Yashiro flips his hole cards – the last couple of minutes of the episode.  And that takes us back into areas where I really must tread lightly if I dare step at all.  In this respect a certain amount of faith is going to be required – for new viewers, and maybe for me as well depending on editorial decisions by the staff.  Good fiction is often controversial – I might even go so far as to say great fiction usually so.  And Boku Dake ga Inai Machi is not a series that's interested in playing safe or trying to please everyone.  It's going to be an interesting couple of weeks, that's one thing for sure…