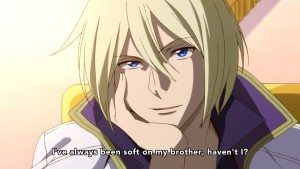 There's no place like home.  And for not just Zen but Akagami no Shirayukihime as a whole, Wistal Castle is definitely home.   So much of this season – good as it's been – has had the feel of an away game.  This series never seems so comfortable as when it's exploring life inside the castle with this cast of characters.  I've enjoyed the last arc but I've been counting the days until we got back to Clarines and the familiar faces waiting there.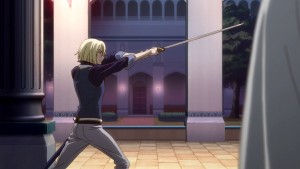 Also waiting at Wistal Castle is of course the inconvenient truth that's always hanging over Zen and Shirayuki, an elephant in the room if ever there was one.  Izana wastes no time in bringing it to the forefront once the traveling party arrives home by announcing (via Haruka) that Zen is to begin marriage interviews – preferable in mass form at a ball – as soon as possible.  Zen is considerably resistant to this of course, but he's part of something larger than himself so simply refusing isn't really an option.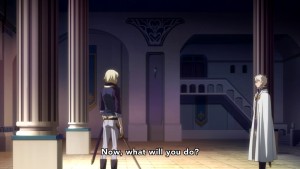 In the real medieval world, of course, the overwhelmingly likelihood is that the prince would take a suitable wife in a loveless marriage and keep Shirayuki as his mistress.  But this is anime and a shoujo fantasy to boot, so that's not really on the table here.  Shirayuki isn't immediately dragged into the middle of all this – she gets a chance to reacquaint with her old job and her old colleagues, who've clearly missed her.  Especially Ryuu, for whom Shirayuki is clearly much more than an apprentice.  Of all the scenes back at the castle I think I've missed the ones featuring  Shirayuki as an herbalist the most – they represent the warmth and wistful calm of this series better than any other part of it, I think.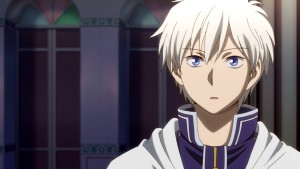 Castle courts are small places, and secrets don't stay secrets very long.  It's an interesting to see the way the marriage interview process plays out, because by leaving Kiki's name on the list of candidates Izana gives Zen an out – a way to relieve some of the pressure and buy some time.  This also gives us a chance to see a little of Kiki's background story – how she came to the castle five years earlier and met Mitsuhide at a ball, only to have him mistake her for a boy when he finds she and Zen sparring later.  There's never any question that this interview is anything serious, for a number of pretty obvious reasons.  But that said she'd clearly make one hell of a wife – and she and Mitsuhide are free of the onerous class burden that weighs down Zen and Shirayuki.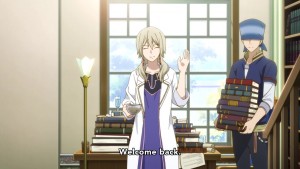 In the end, the crucial moment of the episode is certainly when Izana tells Zen he's going to be an "ally" for his quest to marry Shirayuki.  It seems pretty clear Izana has been testing the two of them – seizing an opportunity to break them up if they're not fully committed to each other, and to assess how big a fight he has on his hands if they are.  Has he really caved, just like that – as leaving Kiki's name on the candidate list suggests?  I'm skeptical – both because Izana is extremely clever, and because the degree to which Zen marrying Shirayuki would scandalize the kingdom can hardly be overstated.  Not only is she a commoner but a foreigner, too – though one wonders if the reveal of her father's minor nobility might be somehow leveraged to at least diminish the resistance.   I'm still thinking Izana is working an angle, and the matter of what's going on "up North" is obviously of major importance – though of course we're unlikely to ever dig into that in the anime, sadly.