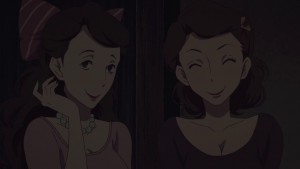 I'm a huge anime fan, but it's no exaggeration to say that one of the most appealing things about Shouwa Genroku Rakugo Shinjuu is that it's about the most un-anime anime you'll ever see.  Even Seirei no Moribito, for all its subtlety and emotional realism, had strong fantasy elements (like Shin Sekai Yori) that lent themselves better to anime than to live-action (though this spring will put that to the test).  Shouwa Genroku is as true-to-life as it gets, a period drama in the best NHK (or BBC) sense.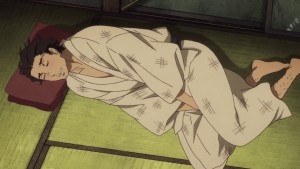 Here's the thing, though – just because this show could easily be told via live-action doesn't mean there aren't things anime can bring to the table that live cannot.  In the hands of a director like Omata Shinichi a series like this is like an impressionist painting, allowing a truer-than true-to-life telling of the story.  Shinichi can bring a whimsy and tasteful hint of surrealism to the show's visual palette, allowing him to show the essence of something rather than merely reproducing it.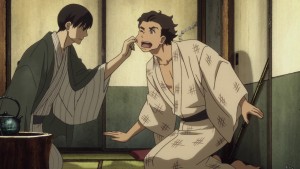 To piggyback on that notion, it struck me watching this episode what an absolute joy it must be for the seiyuu to perform in a series like this one.  Make no mistake, an actor is an actor – and for all the work Ishida Akira has done in pop-cultural sensations, I have no doubt he's always believed he could perform material like this.  What a thrill for a voice actor – they get to actually perform rakugo on television!  That – and the tremendous emotional subtlety of the narrative – made the casting for this series incredibly important.  And it could hardly be more clear that DEEN nailed it.  All of them (ironically the main romantic triangle all played major roles in Evangelion) are superb – the youth Yamadera Kouichi is able to project at almost 55 is astonishing.  But Ishida is beyond mere praise here – this is a true star turn for him, and he soars with the opportunity.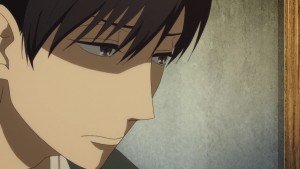 That these are actors playing actors, does, perhaps, add just that little bit of extra imperative and sincerity to their performances.  There were no down moments in this episode, but a few do stand out.  In the scene where Sukeroku brings two ladies of the evening back to the apartment a few night before the play he's coerced Kkuhiko to co-star in, the two bicker (as usual) over Sukeroku's lifestyle, and Kiku lets his petty side show more than he ever has.  But he also quite confidently criticizes Sukeroku's rendition of a role clearly better suited to him, from a story about a prostitute who decides to end her life by staging an elaborate suicide pact.  Their exchange goes, in effect, as follows:
"You see?  You'r never around decent women, so you sound stupid."

"What's the problem?  It's cute isn't it?"

"It's not good.  It's not beautiful."

"You're stiff as ever.  If I had to do it that way I'd end up hating rakugo.  It's a tough business, but that's what rakugo is.  You won't last unless you're a little stupid."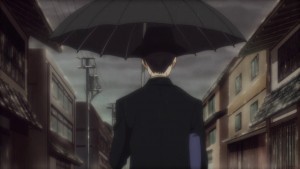 This, to me, says so much about these two men – and about rakugo.  Sukeroku has effectively been on stage his entire life, playing his cuteness to the hilt with great success.  It's a gift, a rare one, and Kikuhiko doesn't share it.  But Kikuhiko has a sense of beauty that Sukeroku does not – in a sense, his rakugo is poetry, and Suke's is prose.  And we all know prose is much more popular with the masses than poetry.  But there's a place for Kikuhiko's rakugo, too – it's just taking him longer to find that place.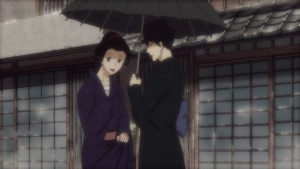 Another memorable scene comes when Miyokichi spots Kikuhiko walking in the rain and more or less drags him back to her okiya.  There's so much tenderness in these moments – one can truly see that Miyokichi loves Kikuhiko (though one might argue in a big sisterly way, albeit a big sister who sleeps with her brother), and just how desperate for the warmth of human contact Kikuhiko is.  Sukeroku is capable is tossing off lines like "Let me have a taste of that once in a while" and think he's being cute, but one can see the explosion building here.  Kiku has so little of what comes easily to Sukeroku – he loves only one woman while Sukeroku enjoys the full spectrum of Yoshiwara's delights.  Yet Sukeroku is greedy enough to want the one woman his friend has that he doesn't.  The potential for ill feeling brewing here is formidable to say the least.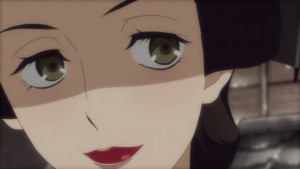 Finally, we have the performance – rather than rakugo, a traditional Japanese play that requires Kiku to dress as a woman to play a man posing as a woman.  The play – and the performance – are wonderful, but what really stands out is the dawning of perception Kikuhiko undergoes here.  He truly is the star – from the moment he walks on stage (looking beautiful thanks to Miyokichi's makeup job) every eye in the theatre is on him, and he loves every moment of it.  One can see the explosion of confidence in his eyes, of purpose – he knows now that this is where he belongs, that he really does have what it takes to bend an audience to his will.  It's truly the crucial moment in his development as a performer.