There's more than one way to measure success, that's for sure.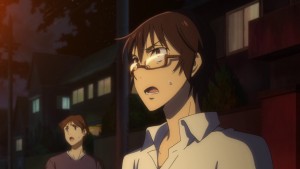 No doubt about it, Osomatsu-san is the biggest success story in anime this year, and maybe for a long time.  But Boku Dake ga Inai Machi is a pretty remarkable case too – and a reminder that in anime success can't be measured only in disc sales.  There's the obvious element from the point of a Western fan – the series is already ranked #1 all-time on Anime Planet, and at a 9.1 rating at the halfway-point it's going to soar close to those heights on MAL.  But most telling (certainly to the production committee) is the fact that all seven of the manga's volumes are back in the charts this week, all at #36 or higher.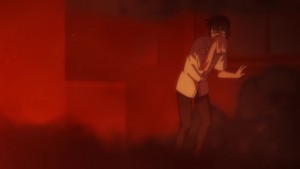 Now, that statistic may not be as remarkable as Osomatsu-san selling 80,000 discs in the first week, but it's still pretty amazing.  I mean, effectively 20% of the Top 35 manga are Boku Dake ga Inai Machi – not a Shounen Jump series or a shoujo romance, but a once-obscure seinen that's riding a wave of popularity tied in with the anime airing on NoitaminA.  It's almost as far-fetched as Osomatsu's fairy tale (though not quite).
As you can probably tell I'm finding other things to talk about with Erased besides the obvious things, because those obvious things are so difficult to talk about.  And one of the other things once could ponder on (just like with Osomatsu) is just why this series has become as popular as it has.  Quality?  Well, sure, it's one of the best anime of the decade – but so were Shin Sekai Yori and Kyousougiga, and those both more or less tanked.  I do think the reception Boku Dake has received is a sign that anime fans are starved for smart, mature dramas not set in high schools – but again, this show is not the only one to fit that bill.  I think they must actually be starving for this kind of smart, mature drama specifically – there's just something in this story that resonates with manga readers and anime fans alike.
Or who knows, maybe it really is just because it's that good.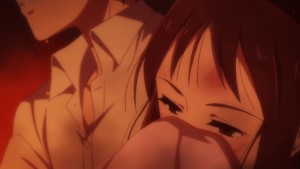 There were all kinds of interesting things happening in this episode, which by some standards was a "slow one".  But in truth it was nerve-wracking and tense and seemed to fly by in about five minutes (and that's for someone who knew what was going to happen).  I think you can see the emerging themes here, trust and belief in people being a big part of that (though I can't go into more detail, much as I'd love to).  What's clear is that what happened to her father was a big part of what made Airi the adult (well – almost) she's become, and what happened to Yuuki did the same for Satoru.  And of course, both of them continued to believe even when most of the world turned against that belief.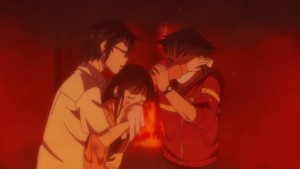 I'm curious to see how new viewers react to the manager character, who shows up to help Satoru rescue Airi from her burning house in the nick of time.  He takes the credit for the rescue when Satoru did most of the work, but then he does send Satoru out the back door and hide his presence – is the impression that he's doing it strictly for selfish reasons?  And if he is, does it matter?  Also a crucial part of this sequence is when Airi slips her phone into Satoru's pocket in order to hide the incriminating message that was sent to it from Satoru's phone – proof that she can still think on her feet even when she's nearly unconscious and by all rights should probably be dead.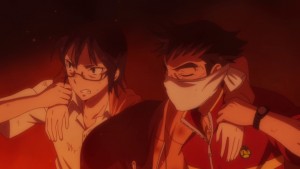 Making his formal entry into the story this week is Sawada (unmistakably Ohkawa Tooru), who was much younger when we briefly met him earlier.  He's a reporter and a friend of Sachiko, and it was his number on the slip of paper Satoru got from his mother.  Sawada is devoted to cases the police have deemed closed that (in his view) are not, and he's never bought the official version of what happened eighteen years ago in Hokkaido.  He fills in some blanks for Satoru when they meet, but the one that stands out involves Satoru's murdered friend Sugita Hiromi – the boy who looks a bit like a girl.  To say that the plot thickens with this new information would be an understatement.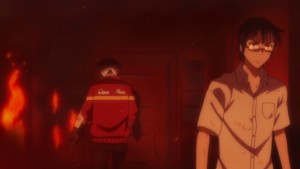 No doubt the signature scene of the episode comes when Satoru leaves the safe anonymity of Sawada's office to meet with Airi – who's fled the hospital with the help of her mother – under the bridge.  This is a dumb move, but they both know it is and do it anyway.  The anime communicates this (especially in his case) but not as explicitly as the manga does – I hope it comes across clearly enough.  I think this meeting can be interpreted in many ways, and the connections between what's happening now and what happened 18 years earlier are obvious.  But I think my take on it is this: the point Sanbe-sensei is making here is that while the hardest time to stand by someone is when they're alone and shunned, but that's the time when it really matters – and the real test of one's loyalty and/or love.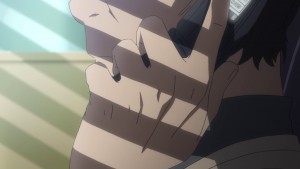 There's a lot of very subtle stuff going on here – the chance meeting with the two boys (watch the water later and listen to what Satoru and Airi are discussing).  The way Satoru's time inside his child self has left him saying stuff out loud without realizing it, even now that he's back in his own body.  When Satoru tells Airi he's glad they met (and not that they met that day, as the subs mis-translated it – a very important distinction) you can see that he really means it.  The decision to meet under the bridge doesn't turn out well, obviously (except for a certain person) but when the moment of crisis comes it isn't himself Satoru is thinking of, but Airi.  It's a bittersweet ending and a hell of a cliffhanger.