Yeah, it's definitely getting weirder.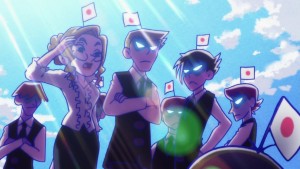 Before I dive into this… interesting episode of Osomatsu-san, it must be noted that this was the week the series' first volume officially crossed over the 100K threshold in sales.  In doing so it becomes only the second TV anime ever to hit that number (after Love Live) – presuming you don't count TV series-turned-movie Evangelion.  I've already expounded on this topic but after an episode like this one, you really have to look at a statistic like that and shake your head.  The Japanese are certainly an interesting people.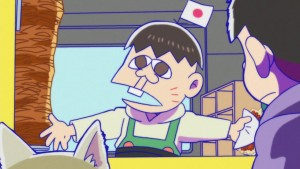 This wasn't necessarily one of the most consistently funny episodes of Osomatsu-san for me, but it was definitely one of the flat-out weirdest.  Any sketch involving Hatabou is likely to be surreal to begin with, but this one (it's strongly implied that he serves up his rebellious former employees as kebabs, burgers, steaks, yakiniku, steak and shabu-shabu) is way out there where the buses don't run.  I'll never hear "What kind of meat is this?" the same way again (though truth be told, it's not like one hears it all that often anyway).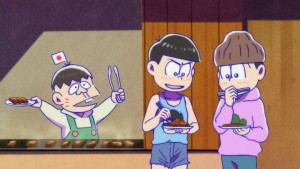 The schoolyard-delinquent sketch had moments of abject hilarity – I'd point to the brothers covering their crotches whenever a girl walked by, and then Ichimatsu doing so when a cat does – but more than anything it was just flat-out random and silly.  Karamatsu's outfit, Ichimatsu's speech pattern, the "fight" between Karamatsu and Osomatsu – I mean, jeebus, this was some weird shit.  I imagine it was a lot of fun for the seiyuu, at least.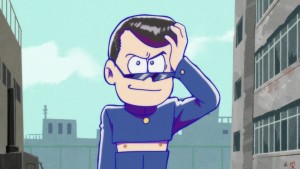 Then we had my favorite sketch of the day (surprise!) a very meta and high-concept piece about comedy as taught by Iyami.  Damn, Suzumura Kenichi is great in this role – serious comic genius – and this chapter is Osomatsu-san at its darkest and most self-aware.  From the moment Iyami bombs in front of children with lame jokes until he pulls out his "Sheeeh!" the cynicism is thick in the air, but I think on some level there's a certain reverence for Iyami's reverence towards comedy (even if it's illogical and self-contradictory), and I was especially keen on the moment he prayed to the altar of Osomatsu-kun creator Akatsuka Fujio (who I can only speculate is very confused right about now).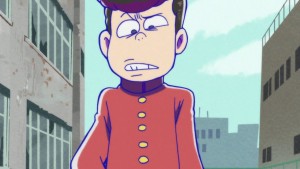 That bit of self-referential satire not being sufficient, after the end credits Osomatsu-san turns to the seiyuu business for the cherry on top of the sundae – just in case anyone didn't get the message.  It's a very weird experience watching a show like this as it storms the cultural barricades, wondering if the ones buying the discs really understand what's going on here, witnessing the creative team get bolder and bolder as the true magnitude of the series' success becomes clearer.  One of the things I love most about anime is that it's so uniquely Japanese, and says things artistically that would never be said anywhere else – and I'm not sure you'll ever see a more vivid example of that than Osomatsu-san.  Sheeeh!