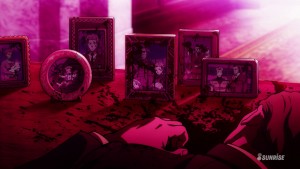 I still consider myself a neophyte when it comes to Gundam, but I have watched a great deal by now.  And I think the more Gundam one watches, the more one realizes that all of its many incarnations (apart perhaps from Build Fighters, which may be one reason why I appreciate it) are basically telling the same story.  Colonialism leads to bitterness, bitterness leads to war, war leads to death (and lots of it), and child soldiers are exploited.  The reality, of course, is that this story is kind of the primordial ectoplasm of modern anime – it doesn't get any more fundamental when it comes to the building blocks of its life.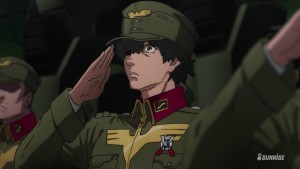 What sets most of these Gundam incarnations, then, is the mask (pun intended) they choose to wear.  And I think in Tekketsu no Orphans and Thunderbolt, we're seeing the two extremes of this basic Gundam story.  Orphans is among the most mannered, convoluted and "modern" of all Gundam series.  Thunderbolt, by contrast, is still basically the primordial soup – the animation is slick, but apart from that it may as well be 1979.  It's rough, a bit awkward and not at all refined, but Thunderbolt is certainly the better of the two Gundam stories currently being told in anime.  This is the mast that fits more comfortably on the face of the franchise.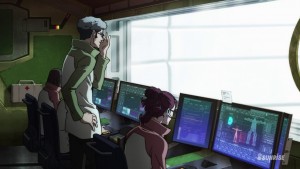 Apart from lots of Engrish singing which I find oddly disconcerting, this was another rock-solid episode for Thunderbolt.  The first was told mainly from the Terran side – this time around it's the Zeon, and specifically Daryl Lorenz.  Like all the young heroes victimized by the conflicts in Gundam, he has a story of his own, but he's a cog in the war machine.  The first ep built up a fair bit of sympathy for the Zeon side but they don't come off well here, especially when the anti-war doctor in charge of Daryl's prosthetics is ordered to saw off the last of his limbs that hasn't already been lost in combat in order to fit him into their experimental mobile suit.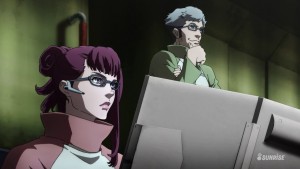 Really, Thunderbolt could hardly be more simple – it's Gundam distilled down to its essence (indeed, the episodes are even 18 minutes long).  But it works quite well as a kind of slap-in-the-face reminder of the brutality of war which drives all Gundam series, and the way Matsuo Kou choreographs the battle scenes and sets them to the soundtrack is quite stylish and memorable.  It finds a kind of beauty in its unfiltered ugliness, something it has in common with many successful war stories.  I'm not sure it's any kind of game-changer in the Gundam mythology, but it really doesn't have to be – it's a compelling reminder of Gundam's roots, and what the franchise looks like unadorned and unfettered.