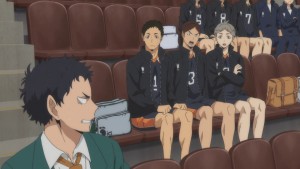 Earlier this week, I happened to click a Twitter link and chanced upon a poll where Japanese anime fans picked their ideal husband or wife anime characters.  Those things are usually morbidly fascinating, but I was especially struck by the fact that Suga placed (in the husband poll, just to clarify) #1 (!) – to which my initial reaction was "My gosh – imagine if he ever did anything!"  But then I wondered – is it the fact that Who-gawara is a non-entity 99% of the time that somehow makes him more attractive to these voters?  Far be it for my to psychoanalyze Haikyuu!! fans, but it's kind of an interesting question.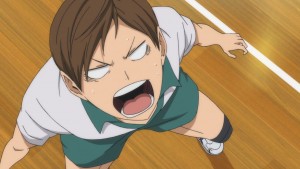 That has absolutely nothing to do with this week's episode – Who-gawara was a non-entity again, of course.  It was quite a good ep, as it happens – probably my favorite in the last several although the Karasuno kids were barely involved.  The format was about as simple as you could get – the match between Aoba Johsai and Date Tech was the entire episode – but Haikyuu tends to do simple pretty well.  The result here was no surprise – we haven't gotten a match yet this season where the outcome was a mystery – but it was arrived at in pretty interesting fashion.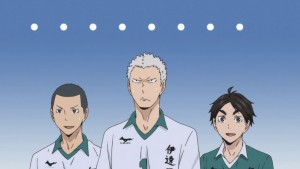 While Oikawa and Seijoh were always going to end up in  rematch with the Crows, I kind of liked this new Date bunch – a team that's clearly in rebuilding mode, but with a lot of potential (as their retired alums said).  It's now built around first-year setter Koganegawa, but he's a different sort of player than we've seen in Haikyuu before – a "super setter" over 190 cm and 81 kg.  This adds some interesting elements to the Date attack – "dumps" that are actually slams, "tosses" where the setter rises so high that he just effectively tees the ball up for the spiker.  I'm not sure I've ever seen a setter that big in my limited experience watching real volleyball so I have no idea how common it is, but it's fun to watch.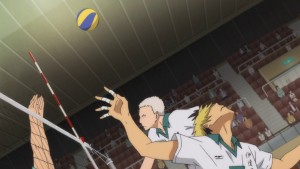 Of course, Koganegwa is a raw as he is physically imposing, and this young Date team is no match for Oikawa and Aoba Johsai in the end.  Oikawa is a true all-rounder, a setter who can spike and block, the best server in the series.  Koganegwa and Aone may be the building blocks of the new Iron Wall of Date, but for the moment the experienced Oikawa and Iwaizumi are the full-on wrecking ball.  And they were always going to wind up facing Karasuno anyway.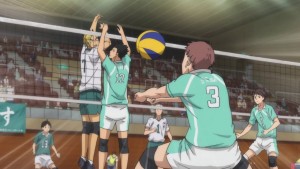 The real question now, I think, is whether this match is going to be the final one of the season or not.  Half a cour is a long time, but this one has seen enough build-up that it could happen that way.  Does it make narrative sense to have Karasuno triumph in their revenge game – first-years beating third-years, in effect?  If so then it's Shiratorizawa that would likely provide the baby Crows Waterloo and the season finale.  That's still the course I'd be betting on, but it wouldn't absolutely shock me to have Seijoh knock out Karasuno once more – though that would effectively mean S2 ending on exactly the same note as S1, which is why I'd wager against that possibility.