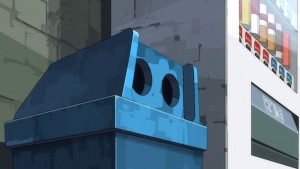 Things are certainly coming into clearer focus on Dimension W.  A good seinen will almost always reward patience, and the secret to succeeding with deliberately-paced exposition is to do more than just tread water – if a series uses the time to develop interesting characters and deliver entertaining plot, waiting for explanations is all part of the fun.  Given the increasingly attention-deficit nature of an anime audience weaned on light novels – and an industry only too willing to cater to them – I'll take this approach any day of the week and twice on Sunday (when this series airs, by happy coincidence).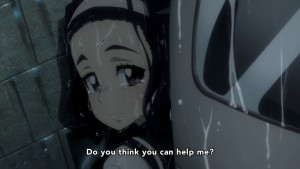 Rather than dishing out a bunch of surprises, this episode more or less confirmed a lot of what the last couple of eps led one to suspect.  The girl behind the van was indeed Miyabi, and she was indeed the love of Kyouma's life.  It seems very likely indeed that Mira reminds him enough of Miyabi (more on that musing shortly) to account for some of the coldness he shows towards her.  If there was a mild surprise here it's that Tsubaki is actually Miyabi's older sister, and in an interesting turn 3Hz has chosen to cast both with the same actress – the excellent Ohara Sayaka.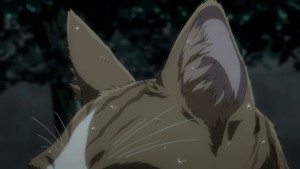 That casting might make one go "Hmm…" – and there's a lot with the very tragic Kyouma backstory and Miyabi specifically to make one wonder what's really going on here.  It seems Kyouma fell for Miyabi after rescuing her (he was apparently in college and she in high school at the time, so the age difference isn't as creepy as appearances dictate), but after a year or two she was struck down by a degenerative muscle disease (ALS, maybe) – which in fact might have been what made her "clumsy" in the first place – and doctors gave her only a few years to live.  That set off everything – perhaps most importantly Kyouma seeking out Yurizaki Seira to try and get Miyabi a cyborg body (like Loo – hmm…), and as a result becoming part of the Grendel Squad.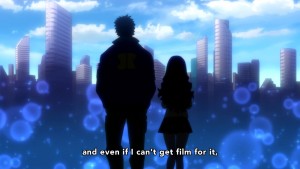 That all seems straightforward enough, but I don't take anything with New Tesla at face value.  It may very well be true that a "coil gone wild" (that sounds like the worst spring break video ever) caused the accident during surgery which killed Miyabi (it's certainly what made Kyouma hate coils) but the fact that her head went missing into Dimension W is a Chekov's Gun at the very least.  It seems that of all the myriad possibilities of existence, all but the "winner" end up going to Dimension W and being converted into energy – and it's when one of those other possibilities comes to pass (no explanation of how just yet) that a coil goes wild.  I think there's a very real chance Mira is directly connected with Miyabi in some way, but time will tell…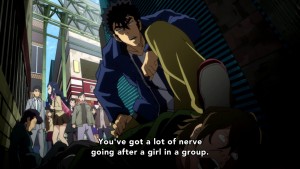 That leads us to the current mission to Easter Island – the place where the worst accident in New Tesla history caused the entire place to fall into a "nothingness" where coils aren't supposed to work.  A motley crew of collectors has been gathered by Salva to investigate what seems to be an impossibility – a working coil in the wreckage – and Albert is giving Kyouma and Mira a lift there too.  You know Kyouma is serious about this job because he's taken his Lexus LFA out of the garage for this job.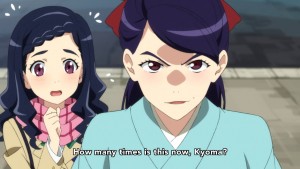 As usual with Dimension W, the plot is something of a mishmosh soup.  Salva apparently reports to SEELE as commanded by Steve Jobs for some reason (actually the N.T. board of directors, perhaps), and Easter Island (yet another marvelous bit of world-building by Kamei-sensei and the anime staff) appears headed for a head-on collision between Kyouma's past and most of the named cast in the series.  From chaos will eventually come order – that's this series' M.O. – but in the meantime, the best thing is just to strap in.