If you're grading your anime by volume of stuff, Dimension W would have to come out on top.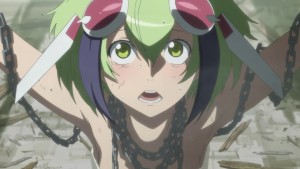 Dimension W certainly gives the viewer plenty of stuff to chew on, that's for sure.  It looks and sounds great for starters (and any show that can look as good as this one does in a Funimation encode starts out at a very high level).  There's a ton of plot crammed into every episode, much of it cryptic at best, and old-school fanservice up the ying-yang.  A fast-paced action episode like this one takes the equation right up to the edge of sensory overload, but I think it manages to stop just short of it and stay in the "exhilarating" zone.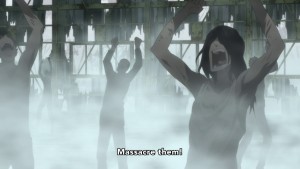 I won't deny that I was pretty confused about what was actually happening for a good portion of this arc, but I think when Iwahara finally decides to lay his cards on the table everything comes together remarkably well.  To be blunt, this is really the difference between a writer with serious talent and one who just throws stuff together half-assed, hoping quantity of plot will override the lack of quality (which is sadly what we see in a lot of mystery/thriller anime).  When the big picture is revealed Iwahara has actually strung together a rather elegant tapestry here, even if it wasn't necessarily possible to see all the connections beforehand.
As you know if you read my coverage on Gangsta, I'm a big fan of exposition that comes about slowly and naturally (a trait of good seinen, it must be said).  While the Yasogami Dam tragedy was a very good story in its own right, it also continues the process of adding pieces to the larger puzzle – the numbers, the nature of Dimension W, the background of all the major characters.  There's also some rather interesting musing on identity here, too, both through the lives of those trapped in an alternate version of reality and Mira's introspection over who and what she is.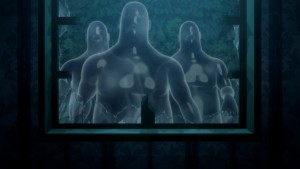 Mira is an interesting character here, and potentially a troubling aspect of Dimension W.  There's no question she's the subject of an awful lot of fanservice moments that sometimes border on the fetishist – clearly, if you know his work you know this is something of a trademark of Iwahara.  I don't see maliciousness in it, but it is relentless enough to be a little troubling (and I'm not sure I would have said that before this episode).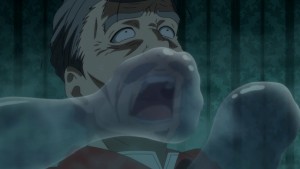 The other aspect of Mira's character that's a little troubling is the way Kyouma treats her, though I also appreciate the fact that Dimension W doesn't feel the need to turn him into a teddy bear.  Mabuchi is a badass, but also one irascible son-of-a-bitch, a tough guy to love.  And I'm beginning to suspect that in addition to his visceral hatred of coils (the source of which we've only seen a fraction of) he must also have a reason for a particular dislike of robots.  Maybe he's just a Luddite generally, but I suspect there's something more specific at play here.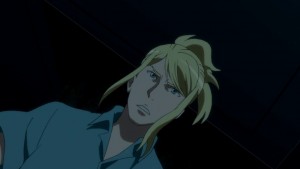 There are several intriguing elements that reveal themselves once the Sakaki Shijurou mystery is fleshed out.  It can now be said for certain that Albert and Kyouma were once teammates, and still retain a certain bond with each other.  The maid at the hotel is the daughter of the man Sakaki killed on that fateful night 21 years earlier – will that prove an important plot point later?  And perhaps most interestingly, the butler at the hotel was Loser in disguise – and Elizabeth calls her "Papa".  Sharp eyes will have noted that the character of Loser's "son" in Episode 2 was never credited (which is why I never linked the seiyuu info as I usually do).  I think it's nearly certain that he and Elizabeth are the same person, though which one is the "real" identity (and why the need for such a deceit) I couldn't say for sure – but it seems self-evident that it would be easier for the son to disguise himself as Elizabeth than vice-versa…