I think it's time to add Studio 3Hz to the close surveillance list.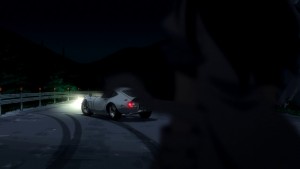 Dimension W is a pretty great show in a general sense, but specifically, the more I watch it the more impressed I am with it from a production standpoint.  No doubt Kamei Kanta and much of the staff is very strong, but if you's told me this series was the product of a power studio like Production I.G. or (especially) Bones, I certainly wouldn't have been surprised.  It not only looks good in terms of direction and design, but animation and background detail as well.  Who the heck are these guys?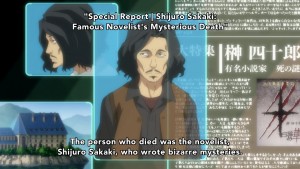 I can't help but be reminded a bit of Kekkai Sensen in the tone and feel of Dimension W, and even the directorial style (I love quick cuts and wipes, and so do Matsumoto and Kamei-senseitachi).  But Dimension W has a more gruff, world-weary sensibility to it I think.  Kyouma is clearly a tired man who's been through a lot, someone for whom any act of politeness (never mind kindness) is a trial.  As a result, his treatment of Mira is pretty harsh even by the standards of this kind of pairing in this sort of series.  But I like the fact that the show isn't rushing to soften Kyouma up and forcing out his warm and cuddly side.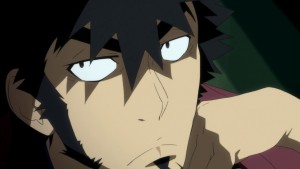 Another relationship is, in fact, emerging as a pretty interesting one.  That's the what- friendship?  Between Albert and Kyouma.  It's Al who sends Kyouma off to Lake Yasogami, where the mysterious death that closed out last week's episode took place.  Clearly Albert pisses Kyouma off (and enjoys doing so), and clearly they're on opposing teams for the most part when it comes to coils.  But hey – everybody pisses Kyouma off, pretty much.  What struck me in watching their interaction this week s that Kyouma seems to feel like Al is the only person who understands him (as a fellow "Beast of Grendel" I suppose that's natural).  It would probably be too much to say there's affection at the core of their relationship, but I do think there's a measure of respect.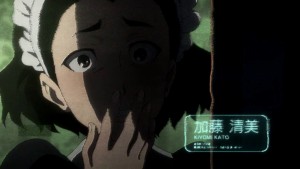 The locked-room murder of horror novelist Sakaki Shijuro at the man-made "cursed" Lake Yasogami – seemingly by his robot servant – obviously has tendrils that run pretty deep.  It's a Numbers game – that's why Al and New Tesla are interested, and it all seems to date back to a mysterious "accident" during the construction of the lake and hotel 21 years earlier hat left a group of students dead, with only one survivor.  And Albert reveals that Kyouma was a similar sole survivor of another incident – one more tile in the mosaic of Kyouma's past slid into place.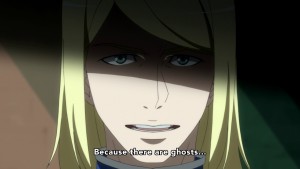 On the whole, what goes on at the hotel is fairly confusing and kitchen sink-y, largely by design.  But damn, the style points are off the charts.  The ghost-leery Mira is drawn into a strange fold of time between the past and present, and this is brought off in both mesmerizingly cool and quite scary fashion.  Meanwhile Kyouma and Al have a highly entertaining rendezvous at the fabulously atmospheric "Steelhead" hotel pub over Japanese whisky and trout, and a new collector makes her appearance – the goth-loli Elizabeth Greenhough-Smith (Suzuki Eri).  She seems to have vampire aspirations, but I'm more interested in knowing who she's working for (most likely a rival branch of N.T.).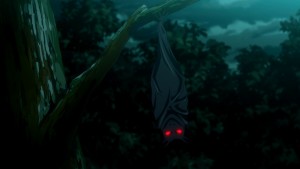 This is one of those "let the moment wash over you" type of old-school anime episodes where the sensory reaction is more important than the intellectual – clarity is not the priority here so much as giving you an experience to remember. And for me at least, it worked – this took me back to another time in anime totally in a good way.  The world-building here is off the charts – the beautiful yet sinister Lake Yasogami, like "The Shining" in summertime, the creepy crossover between Dimension W and our own, the scary way all this looked to Mira.  It's really good stuff, the kind that gets mentioned in those posts at the turn of the year – and Dimension W definitely has a chance to be part of that conversation if it can keep the magic flowing.