Same old same old…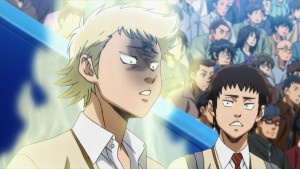 Yeah, I'm getting pretty pissed off at Daiya no A again.  I'm just so sick of the same old shit over and over again – when Furuya or Nori are on the mound, they're the beneficiaries of spectacular defense at every key juncture.  Eijun, meanwhile, gives up bloop hit after bloop hit on great pitches.  Why?  What's the point – is it just sadism against both the audience and the character?  And don't think having him acknowledge how unfair it is makes it better because it doesn't – if anything, that makes it worse.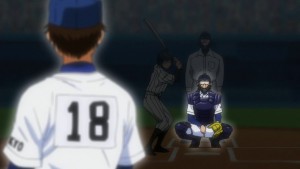 As if that weren't enough, Miyuki's injury and his refusal to recuse himself basically costs Eijun a run – and once again he's praised as some sort of hero for doing it.  Just to recap that half-inning: Eijun strikes out Miss-shima.  Eijun wins against Raichi at last – but Raichi gets on-base anyway.  Raichi should have been caught stealing, but injured Miyuki is unable to throw.  Sanada pops up another great pitch, but it drops in CF.  And Raichi scores on a squeeze bunt.  Can you even imagine, under any circumstances, that happening to Furuya?  I didn't think so.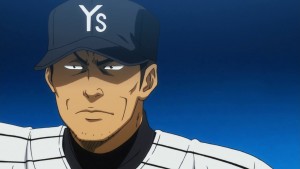 I don't even know why I keep coming back, because it's not as though I don't know this is coming.  But I like Eijun and Raichi so much that I really don't want to quit this series.  That said, I'm pretty much at the end of my tether – Terajima has run out of rope to hang himself.  If there's no payoff at the end of this game for all Eijun's hard work and indignity, I'm done – period.  An author can't have his head so far up his ass that he has no conception of the way his characters are perceived.  I hope it doesn't come to that but at this point if Diamond no Ace were a security, I'd be advising "sell".