First things first – this episode of Dagashi Kashi hit close to home for me.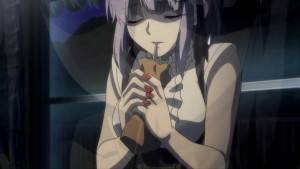 OK, so I love ramen.  Like, seriously love it – religiously, like Michael Booth in Sushi & Beyond after he tries butter corn ramen for the first time love it.  So natch, I love Baby Star (the big bags are even better) – I think I tried it for the first time after seeing it on Nobunaga Concerto and thinking "WTF is ramen in a bag?"  I actually didn't know the background story until Coconuts explained it here – but then, that's one of the things I love about Dagashi Kashi.  And I think whether you care about stuff like that is a good test of whether or not this show is for you.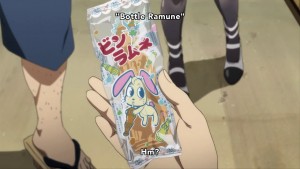 I guess it's a testament to Japan's wonderful weirdness that somebody decided it was a good idea to scrape the refuse from instant ramen off the dirt and sell it to kids, and it turned out to be delicious.  As for the first dagashi we "met" this week, while the spelling is close Ramune could hardly be more different from ramen.  It's an eponymous Japanese beverage especially in summer and you see it in anime occasionally – that effervescent, clear drink of many flavors with the marble in the bottle.  I had no idea they made a powdered version in an edible bottle – it sounds pretty gross, but I'll take Hotaru and You's word for it.  The whole routine around Ramune as another kind of powder was Dagashi Kashi in a nutshell – kind of edgy but also quite innocent.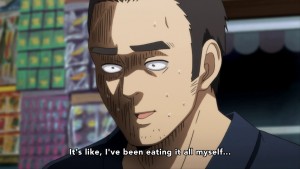 The whole vlogging sketch had me in stitches, especially as I knew it would end up with Kokonotsu becoming a Youtube sensation.  You is a very funny character and I loved seeing more of him this time, but it's also abundantly clear that the harder Kokonotsu tries to run away from his nature the more obvious it becomes – he's a dagashi savant.  He knows almost as much trivia as Hotaru does (and his is more practical) and it always makes me smile when he gets all passionate about it – not only does he know about this stuff but he secretly cares about it.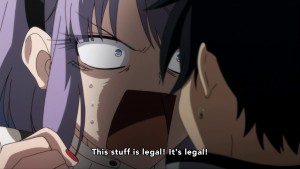 Then we had the final sequence, which got the other baka-in-residence Tou into the action.  First off Coconuts is right, his dad should be paying him – but Hotaru's money-making scheme was worth his sacrifice.  She knows so much, yet so little – I loved it when the screen flashed "NOT TRUE" after she espoused her sunglasses sour grape theory (and yes, they really have changed the packaging).  Again, the idea of a gummy Russian roulette is exquisitely Japanese and another case of serendipitous invention.  But how is it that Hotaru gets off the hook without paying off the damn bet?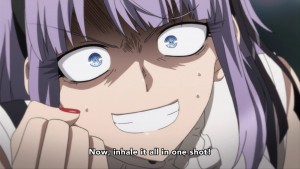 One thing I really wonder with Dagashi Kashi is whether or not the series gets a kickback from the snack industry, because they're sure as hell giving it a lot of free publicity.  They're using real product names and packaging, and even doing special informational segments on the website and via twitter.  Everybody wins, I guess (SNK Playmore could take a lesson from all this) – and Dagashi Kashi is definitely the funniest straight-up comedy of the season.