The scope of Boku Dake ga Inai Machi is getting wider and wider, but the box I'm trapped in narrower and narrower.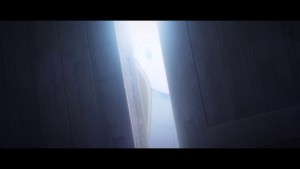 As always with Erased, there's an awful lot I'd like to say about this episode but simply can't.  And unfortunately that's likely to only get worse as we advance in the plot.  And it's not as though I can just sit here and pick holes in the series, because it really isn't doing anything wrong.  What's a blogger to do under these circumstances – besides gush over how great this show is, I mean?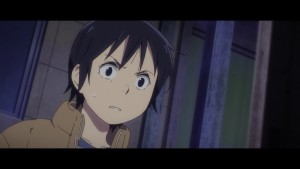 Well, as always there are things I can touch on that don't directly impact the mystery (which really deepened this week) – or reflect backwards rather than forwards.  You noticed, most likely, that this was clearly a budget-saving episode – the animation and detail was a definite step down from the first four.  You may not have noticed if you didn't read the manga that this was the first episode that skipped what I would consider a significant amount of material.  There's going to be some of that, inevitably, and I feel pretty reassured based on this week that Ito and Kishimoto-sensei can handle it – I don't think any clarity or cohesion was lost (though of course those without manga knowledge may feel differently).
I also want to talk about another element of this episode that's safe ground, because it's not something Sanbe Kei returns to as a point of focus in the manga.  I was quite struck by the tear that rolled down Satoru's cheek in the classroom on the morning after Kayo's disappearance – and by his freak-out outside her house later.  Consider this – we're talking about a 29 year-old man here, but that childlike reaction was clearly genuine.  Why?  I guess what I'm asking is, which Satoru was it that was crying there – and does it even matter?  Sanbe – and Ito – don't beat us over the head with this point, but I think it's a fascinating thing to ponder.  Where does the boy end and the man begin?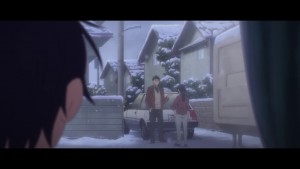 This episode asks a lot of questions old and new that it's not prepared to answer yet, but it also makes Kayo's fate clear – and irrespective of the answers to any of those questions, that tragedy cuts deep.  On thing Sanbe doesn't tell us at this point is why Satoru winds up back in the present, but so he does – once again a fugitive for a crime that pains him more than anyone else.  In that situation a man needs all the friends he can get, and what's interesting isn't so much that the manager betrays him (that painting of The Last Supper on his wall should have been your spoiler alert) but that Satoru was willing to beliebe in him,  And that he was willing, even after the manager called the cops, to forgive him for what he'd done.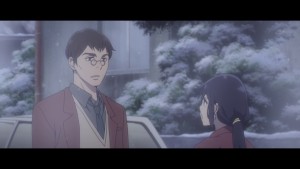 One suspects that if Satoru had been a fly on the wall for the next day's interaction between the manager and Airi he wouldn't have been so forgiving.  Airi is a character who's made an impression that's outsized to her screen time, and she's an interesting mix of a 17 year-old's naiveté with a hard-edged toughness.  As to what happens with her this is definitely one of those minefields into which I dare not tiptoe, but you'll no doubt have taken note of something she said – that Kayo died on Girl's Day (Hina Matsuri, March 3).  Satoru certainly did…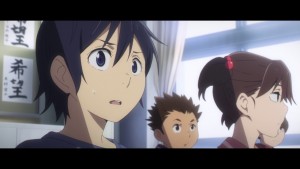 There's not much else I can say, sadly, except perhaps this – one takeaway from this episode and this series is that everyone has a story.  Not everything everyone says or does has a hidden meaning, because that's now how real life is – people are saying and doing things all the time for reasons of their own, and in the process their story is being written by those words and actions (and thoughts) and by the things that shape us as people.  The fierce pride to believe in someone in spite of the evidence doesn't take root in us by accident – it comes from the example of those we loved, especially when we were children.  Not everything that we see in Boku Dake ga Inai Machi is directly connected to the plot, but that doesn't mean it's not important – it paints the picture of the characters who make that plot matter to us.