I've been trying to figure out for a while why (sorry, Samu) this season of Haikyuu just isn't as involving for me as the first one.  The stuff with She-nata at the beginning of the season was really good, and the Tsukki-Aniki arc was fine too.  If the off-court stuff is still there that really leaves the matches as the most likely culprit, and that's an explanation that seems to hold water – and I have seen others express the view that the on-court stuff isn't as engaging this time around.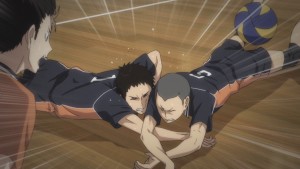 There are a couple of issues at play here, I think.  First, it took an entire cour before Karasuno played a really meaningful match.  The practice matches were okay, largely because Bokuto might just be the most entertaining character in the entire cast.  But practice is practice and tournaments are tournaments, and a cour is a long time for a sports shounen to go without the protagonists playing in a tournament.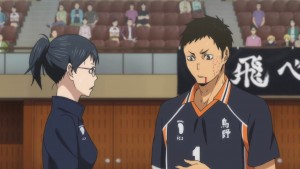 The other problem is that there's been no suspense factor whatsoever since the tournament began.  What made the matches last season interesting, especially the Johsai match, is in part that there was real doubt about the outcome.  Well, there's been absolutely no doubt about the outcome of any of the Crows' matches so far – Karasuno simply isn't going to lose to Wakunan, just as there was no way they were going to lose to any of the teams they've played up to now.  There are only a few teams Karasuno is allowed to potentially lose to, and Shiratorizawa looks like the first one that will be a factor this season.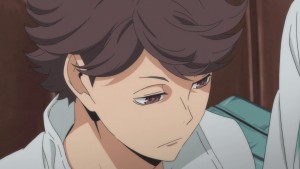 So, we have a problem here from my perspective.  Opponents get fleshed out via flashback when the matches start, but there's only so much buy-in you're going to get for a team you've never met before.  And curiously, I think the current situation with Ennoshita has a similar problem.  A distinction has to be made, I think, between what works in the sport being portrayed and what works as part of a story.  It seems like any criticism of Daichi is invariably met with a rebuttal based on his value as a player.  Well, look – no one is disputing that Daichi is a good player and captain.  But that doesn't mean he can't be kinda boring as a character, too.  And Ennoshita may be the right guy to replace him, but I would make the case that this development is dubious in negative terms.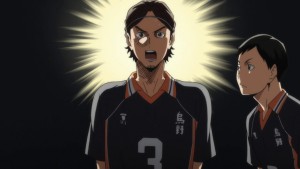 Here's the problem for me, and I think it stems from Haikyuu (and this is a common problem with sports anime) being a little too quick to rely on the flashback as a narrative crutch.  I think inserting a guy like Chikara as the key figure without having given him any development time to speak of first is a bit of swing and miss.  Just thrusting him in the middle of a crisis and telling his story after the fact via flashback is kind of weak, at least for me.  Flashbacks have their place, but that place should be limited – and we see them too often in Haikyuu for my taste.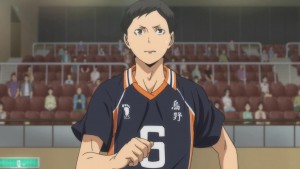 I have no such problem with what happens with Tadashi at the end of the set, because that's 100% legit – that angst has been earned.  And it's genuinely interesting (and painful) to see Tadashi struggle to be relevant and whiff every time he's getting a (rare) shot.  He's a good kid but this whole volleyball thing is a struggle for him, and he may even be an argument that playing a sport because you're following someone else may not be the best move.  Those last few minutes were easily the best part of the episode, and felt the most like the Haikyuu that made me like the series in the first place.  I hope we see more like them in the next two months.