Queue up the next sacrificial lamb.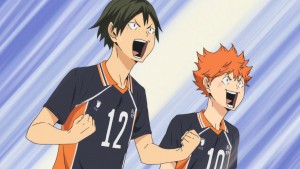 That lamb is Wakunan, who present a different sort of challenge at least in that rather than flat-out bombast, their M.O. is defense and calm.  We haven't seen Karsuno play too many clubs like that – apart from the ones that regularly beat them of course (and I'm not too sure I agree with Ukai's assessment of Seijoh as being that kind of team).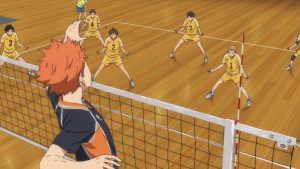 While this wasn't necessarily the most exciting episode of the series what with much of it being focused on ushering out one designated opponent and ushering in the next, we have entered a rather interesting point of the series in the sense that other teams are finally starting to catch on to Hinata.  Up to now he's been a gimmick player to the extent that he succeeds based on the fact that what he's doing is so different than anything these schoolboy opponents have seen.  What will happen when they gameplan for him?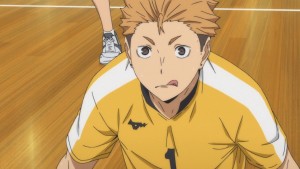 The answer, of course, is that he'll evolve.  This is a shounen after all, and in sports success doesn't motivate change the way failure does.  We're seeing some interesting tacks from Wakunan and their inspirational captain Nakashima Takeru (Atsushi Abe).  First, they're effectively playing a man-to-man against him, with the rest of the team in a zone (in the first match we saw Johzenji not attempt to block him at all, but simply receive his less-than-overpowering spikes).  As challenges go these seem pretty manageable, because Shouyou is basically getting what he wanted all along – respect.  He's a bulldog – he'll be just fine.
Perhaps of greatest import is than Captain Boring Daichi seems to have been injured just as the Crows are getting ready to close out the first set of a fairly evenly-matched struggle.  I'm not enough of a volleyball expert to know who's likely to replace him – as vice-captain Suga would provide leadership, but he's a setter and I've yet to see Ukai use a two-setter lineup.  I'm not even sure if there any named wing spikers on the bench – maybe Kinoshita?  Of course Daichi could pull a Furuya and come right back and play anyway, but I guess we'll find out next week.