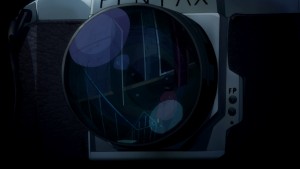 There's certainly been many a season when Dimension W would stand out as the class of the field, and it's no reflection on it that this isn't the case so far in Winter 2016.  It may well end up being the season's best series, who knows – it strikes me as the sort of show that has legs because the premise is complex and well fleshed-out, and the degree of skill involved in every stage of the production process is obvious in every scene.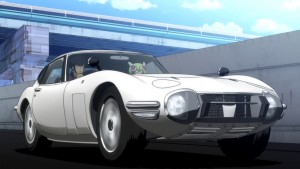 It does seem to be a trend for balls-out action series to use the third week as a breather/expositional episode, and that can be a good thing or a bad thing depending on the talents of the creative staff.  There seems to be some disagreement on the part of manga readers (apparently the kids in this episode originally had a much longer back-story) but I thought this ep demonstrated that Dimension W is just as at-home with this kind of material as it was the full-out action of the first two episodes.  This is the sort of series you don't take your eyes off beginning to end, OP to ED and beyond, and there's never a dull moment.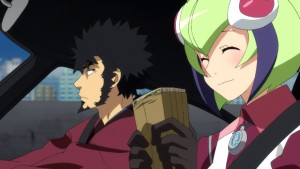 Cute can be a curse in anime, largely because cute girls have become such an overused saw and hack writers and directors use them as a crutch to cover their lack of originality and talent.  But cute when done right is still very, very effective – and Mira is cute done right.  Trying to explain why cute usually doesn't work and does here is somewhere in the "I don't know art but I know what I like" vein, but you can see it for yourselves.  She's funny, Kamei-sensei doesn't try too hard in vamping her, and she's just plain kawaii.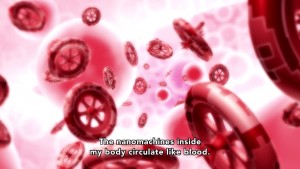 Mira reminds me eerily of the catgirls and robots (well, she basically is a hybrid of the two) from the classic anime comedy-dramas of the 90's.  And clearly, Iwahara Yuji has a deft hand with cute characters of both genders (as any veteran of Darker thank Black could tell you), which in concert with the sort of rogue-hero protagonist sci-fi noir we have here is kind of a perfect storm for anime timelessness.  I certainly think one can enjoy Dimension W without any context of the sorts of anime it sprung forth from, but if you do have that context I think the experience is that much more rewarding.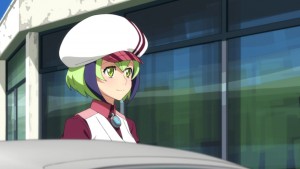 There's plenty of Mira-centric comedy this week, and it pretty much all works for me.  All the stuff with the trailer was great, and I found the scene with the junk salesman one of the most hilarious of the season.  As for the aforementioned kids, they're the same scamps we saw snooping around in the premiere – fascinated by the grumpy Oji-san and his lot full of junked cars (and one running one).  I kind of want to see Kyouma interact with them eventually because I think that could be really good, but for now it's Mira who they cross paths with – and Mira who saves the three boys when they're almost trapped underneath the collapsing tower of junkers (and loses her head in the process).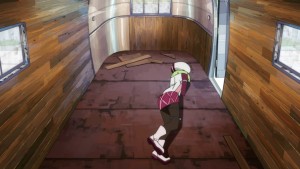 One of those kids, as it turns out, is the granddaughter of the CEO of the local New Tesla cabal, Claire Skyheart.  It's she who intervenes when the police call Kyouma in for questioning over the incident with the kids, and while the early returns would seem to indicate that she has some measure of decency in her, she's also fully immersed in the conspiracies of N.T. – and in league with Albert Schumann.  They both refer to Kyouma as a "Beast of Grendel" – the "other" Beast of Grendel in fact – and it seems very likely that's the reason he's such an object of interest to, well- everyone.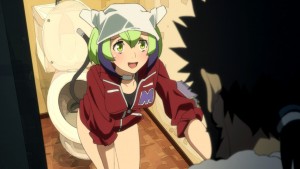 There's also an interesting bit of clarification on Loser's cryptic comment about "numbers" last week.  That's the nickname of the experimental "beta coils" New Tesla used before they settled on the current generation, and are apparently still using in secret.  They reach deeper into Dimension W for their energy, and that's a bad thing if the disasters their use appears to be causing is anything to go by.  Clearly this is N.T. playing with fire of world-destruction potential, and I wonder if we're seeing a dynamic where there's a division of opinion inside New Tesla itself, with Kyouma caught in the middle and the fate of the world on the line…