Rather than a punch, I'd say that was more of a good dope slap.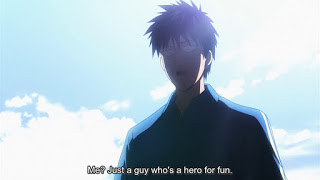 One Punch Man weighs in with its first OVA (another one is coming up at Christmas), and it's more or less in the vein or an origin story. And it was pretty successful, though the whole thing feels more or less like a small-scale reproduction of the real thing – everything is toned down from the series except Saitama's hair. But that doesn't mean we don't still get bald jokes.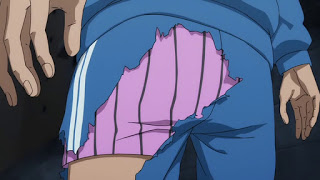 To be more precise, "Road to Hero" could be said to be the origin story of Saitama's hero jumpsuit. That comes courtesy of an old tailor that's the nascent hero's main supporter, right down to fixing the damage Saitama regularly does to his tracksuit during his pursuit of heroing as a hobby. This Saitama isn't the most powerful man in the world yet, clearly, but he's still more than a match for the small-time loan shark who runs the neighborhood and his army of thugs.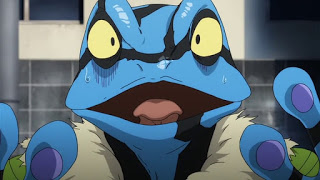 I wouldn't say this story was anything riveting, but it was true to form. It was interesting to see Saitama's indifference to chasing money and fame even this early in the game, and his introduction to the freaky sort of monster shit he's going to be dealing with as a matter of course once he goes bald. The world – or at least the little corner of it Saitama inhabits – seems like a lot less bizarre place here, almost as if at some point something happened to make everything go as crazy as it did. Most of the craziness here is supplied by Saitama's neighbors, in fact…