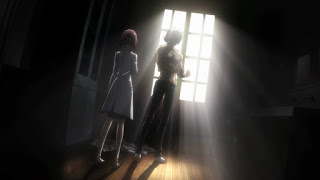 The parade of the new starts with something old – or at least, something new based on something really old. That would be Tezuka Osamu's Black Jack, the story of a patchwork quilt of a rogue surgeon named Hazama Kuroo, which Tezuka began in 1973 and which ran for 17 volumes over ten years. Young Black Jack is not canon Tezuka material – the manga this series is based on began in 2011 and is written by Tabata Yoshiaki (Ninja Slayer), and chronicles the life of Hazama before he became the legendary surgeon portrayed in his manga. I don't know if updating Tezuka is a good ideal in principle, but the pedigree behind this series is fairly solid, and so is the premiere.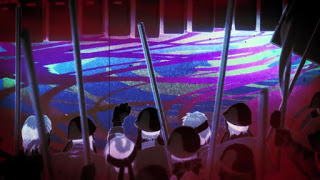 Tezuka wrote Black Jack late in his his career, and is reflects where his politics were at the time. Always tough to pin down ideologically, Tezuka was at this point hugely critical of American adventurism in Vietnam (which he equated to Japan's militarism during World War II). Young Black Jack kicks off with a ringing condemnation of student unrest in Japan in 1968. Some might see that as evidence Tabata and Tezuka are on opposite sides of the political divide, but while he didn't focus on the civil unrest movement much in his writing, I think Tezuka's views would mesh pretty closely with what we see here. More than anything I think at that point Tezuka was contemptuous of anyone peddling an ideology, and skeptical of mankind's ability (especially when acting as a group) to move beyond self-interest and jingoism.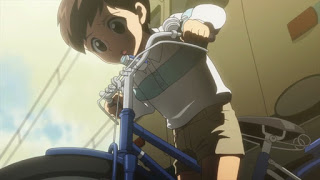 Be that as it may, I think the premiere of Young Black Jack is a pretty good one. The look (Tezuka Productions is in charge) is deliberately old school, and suits the setting well. One could certainly pick apart the story over its feasibility, but Tezuka himself never seemed overly concerned with realism. He wanted to explore the intricacies of human behavior and morality, and he usually chose to do so through fantastical settings. I doubt there were any guys looking like Hazama running around Tokyo, and the procedure he performs in the episode is medically dodgy even now, never mind for a student 47 years ago. But that really isn't the point.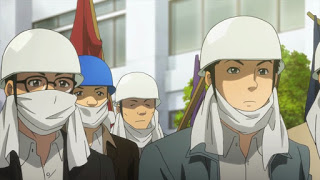 Hazama is played by Umehara Yuuichirou here, while the story is narrated by his older self (played by the great Oostuka Akio). Hazama is a loner of the highest order, but he answers the summons for help by intern Omamoto Miko (Itou Shizuka) when she goes looking for any able hands among the protesters at their medical school after a train-bus crash overloads the hospital with wounded. Among the most critically is a boy who's had his arm and leg cut off by the train, and the surgeon in the E.R. tells the parents the boy's limbs are beyond saving. For them, maybe…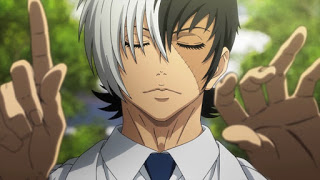 This storyline is obviously here primarily to establish Hayama and his place in this world, but it works pretty well. There is not a cast of goody-twoshoes, includimg Hazama himself – who asks for ¥5,000,000 to reattach the limbs (though he only gets 500K). Part of the crucible for Hazama's journey, it seems, is to have what remains of his naïveté stripped way bit by bit. The idea of a rogue surgeon has some appeal, and Tezuka's moral musing always have the potential to be a keeper. But how well this material is going to hold up over a full cour is very much an open question in my book…