"I play tennis for a living, even though I hate tennis, hate it with a dark and secret passion, and always have."
– Andre Agassi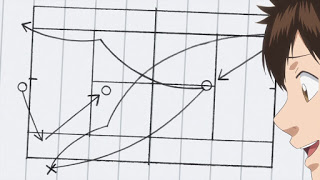 Given that Baby Steps is probably the most comprehensive look at youth sports in manga history (I would place only Capeta in the same broad category in terms of covering all aspects of the experience) it seems only natural that the topic of tennis parents would come into prominence sooner or later. We've certainly met Ei-chan's parents, and they'll continue to play a role in the story (a larger one than they are now), but if anything they're about as far from sports parents as it's possible to be when your child is an aspiring athlete.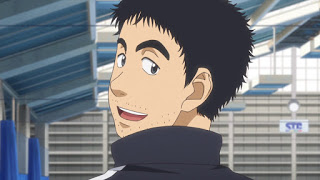 The one that really changes the equation is Shimizu Aki, whom we briefly met when she displayed her remarkable (for her generation) cluelessness when it comes to technology. She of course is the #1 junior girl in Japan, Natchan's junior by one year and her fated rival and white whale. But as hinted at in the first appearance, Aki-chan comes as part of a package deal – along with her mother. And her mother has been Aki's sole tennis coach since she was a little girl. The occasion of her reappearance is a joint-training session among the top clubs in Kanagawa, to better get their prodigies prepared for the upcoming Kanto Junior. For STC it's a chance to get Natchan some confidence against her rival and a worthy practice partner – for Aki (or more correctly, her Mom) a chance to spy out the competition's practice habits and try and inspire her suddenly listless daughter.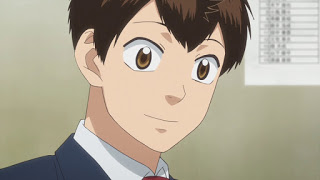 As anyone who follows tennis knows, the issue of tennis parents is a difficult one. Sports parents can be nightmares generally, but nowhere has this been more broadly displayed than in some of the shameful things we've seen in tennis, especially women's tennis. Shimizu-san doesn't immediately come off as a monster by any means, but it's very clear she's in control of every aspect of her daughter's life. And just as clear that even if she doesn't yet understand why, Aki finds this arrangement leaving her deeply unsatisfied with her life.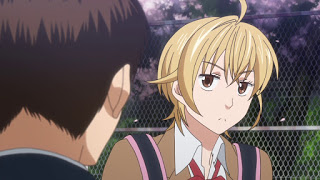 In contrast, Ei-chan is still as ever the eager student – he arrives early for his first practice after the grueling final with Araya (early enough to catch Yukichi-kun in the worst warmup suit ever) looking for a match to test his ideas about changing the pace. He gets one with Coach Aoi, who beats him. So when the bus with the likes of Araya, Miyagawa and even Iwasa arrives at STC, no one is happier than Ei-chan. It's a busload of opportunities to gather data on himself and potential future rivals, and for Ei-chan that's serious fun.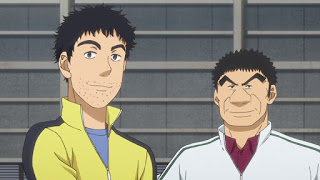 So the contrast between Aki and Maruo could hardly be more vivid. There's the complicating factor of Aki's serious crush on Maruo to muddy the waters, but the most elemental thing troubling her is the obvious joy Maruo takes in the game, which she doesn't share in the least. Maruo loves the game so much that he's put college entrance exams on the back burner and dedicated his entire life merely to trying to keep playing, but Aki plays simply because it's what she does – it's what she's always done.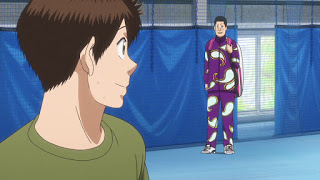 Ei-chan has noticed this contrast, too. The conversation between the boys on the bus after the practice is really the interesting one – he asks Miyagawa and Araya whether they love tennis, and they're struck by the audacious simplicity of the question. "It's not a question of love or hate anymore." Araya says. "It's a part of who I am now." Andre Agassi is an interesting case study here – a kid pushed into tennis by his father despite having a congenital spinal condition that gave him agonizing back pain for his entire playing career. Yet he became the #1 player in the world, and won the career grand slam – proof that one doesn't have to love tennis the way Ei-chan does to succeed at the highest levels. Does it even help to love the game the way Maruo does – is it possible to love a sport too much? One thing seems clear – people like Agassi found something besides love to drive them, be that pride or hatred of losing or even a desire to succeed in spite of the parent they resent. And Aki hasn't found that thing yet.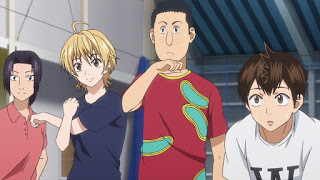 As for Ei-chan, the future is very much in doubt – and his entire life plan relies on winning the All-Japan Junior. And that means he has to place in the Top 16 at the Kanto Junior, winning two matches – a real problem, as he's unseeded and the formidable 5th-seeded Yoshiaki Ide awaits him in the second round. We very briefly met Ide back in the first season (Episodes 21 and 23) but that was only a taste of what's to come (hint: great stuff). But before that, there's unfinished business – Maruo's match with his own white whale, Takuma. He's now a pro, in Japan's Top 10 – but Ei-chan unhesitatingly approaches him to ask for a continuation of their earlier match (halted by Aoi-kantoku because Ei-chan's body wasn't caught up to his mind). Surprisingly, Takuma agrees – and a three-set match against this opponent could hardly be a better yardstick for Ei-chan to measure both how far he's come, and how far he still has to go.