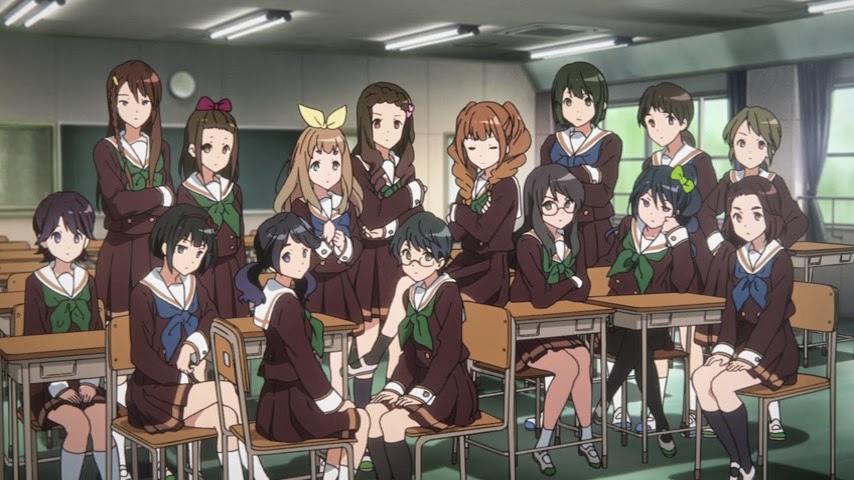 Anyone who thinks Taki-sensei is an unduly harsh teacher probably hasn't seen Whiplash, I'm guessing – and obviously, as a musing on the topic of teaching kids how to play music it operates on a whole different level. But that's just as obviously not a fair comparison, especially given that Hibike! Euphonium isn't trying to be that sort of story. It's not K-On! either of course – there's a pretty wide swathe of territory in-between those two poles, and Hibike! is comfortably in the meaty part of it.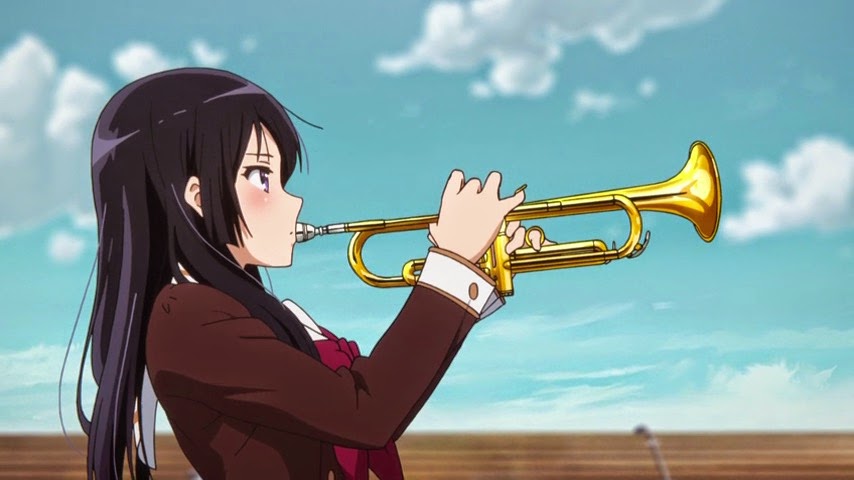 Be that as it may, it's Taki that's really carrying the show for me at this point. I don't dislike any part of it and I find it generally interesting, but there's no other character in the cast that I actually really want to know more about as a person. Why? Who knows – it seems to me that Hibike isn't really trying all that hard to makes its characters into well-rounded people. Last week I said that the word that kept running through my mind when watching it was "abstract", but this time it was "clinical" – which seems quite fitting, as that's exactly the approach Taki-sensei takes to teaching concert band.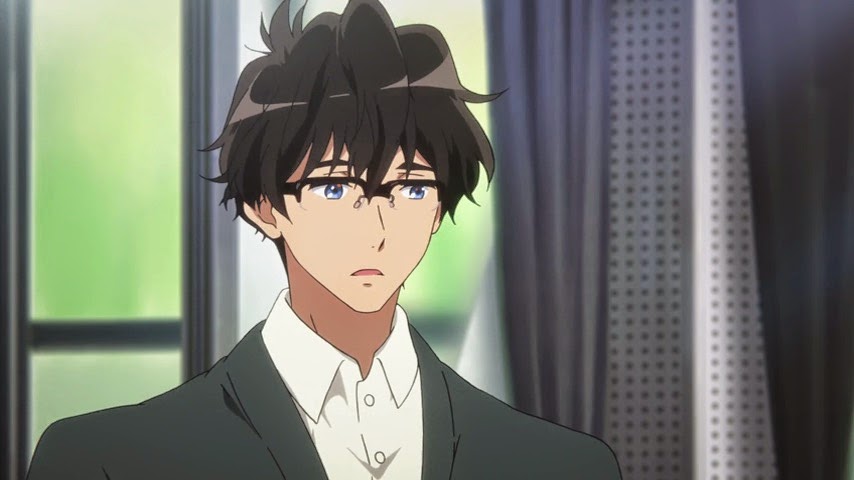 That means a number of different things to me. The parts of this series that don't feature Taki-sensei have a clinical quality in that it seems very much as if we're watching events as a detached observer. Maybe, in hindsight, that's because that's sort of what Kumiko is – she really only gets animated when she's dissing Shuuichi or
going into labor
over Kousaka. But even when she's not a point-of-view character the narrative is exactly the same – we see little snippets of conversation or behavior that may suggest elements of the person engaged in them (Incidentally, was that a classic KyoAni big-name cameo with Natsuki Hanae as
"As a teacher I don't dislike his methods" boy
?) but then it's over – the camera moves on. Will it ever stay focused on anyone long enough for us to find out if there's any "there" there? Who knows – I wouldn't like to assume one way or the other, but it would certainly help me stay invested.
Fortunately every time Taki-sensei enters the fray he puts a thousand-volt charge through the entire show. Things get edgy, nervous, and really interesting – you can practically smell the sweat forming on those stressed-out adolescent brows. It can be debated whether he's a good teacher or not, but even that debate is at least an intriguing element for the series – and he's sure interesting. He's as clinical as they come – unlike his Whiplash counterpart Terence Fletcher Taki doesn't fall back on screaming fits and physical violence. He still brutalizes his pupils – he just does it with half-smiling, unsparing judgment that allows no room for rebuttal.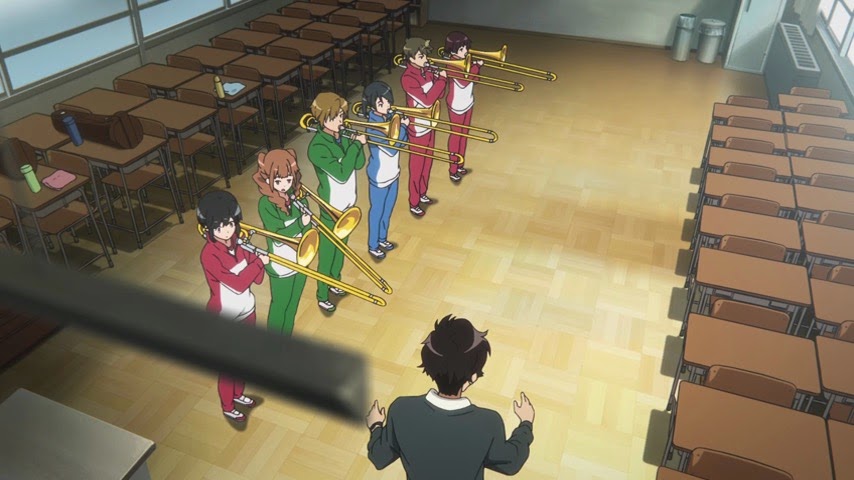 I'm not normally a fan of that leadership style, but I think we can see here that Taki is very good at it – he breaks down his band (collectively and individually) in order to build them back up, and gives them a common foe against whom to rally. It's interesting to hear that he's never taught band before, because he's clearly very well-versed in both group dynamics and instrumental music instruction techniques. I think the idea that if you want to aspire high you better be prepared to suffer to achieve it is a valid lesson to impart in this situation, and given the issues with the second-years especially, I'm not sure hand-holding (which is Haruka's M.O.) is very effective. Everything with Sakurai Takahiro is about the right role – put him in it, and he's among the best. Miscast him, and he's borderline awful. Here, he's squarely in his sweet-spot and hitting a home run.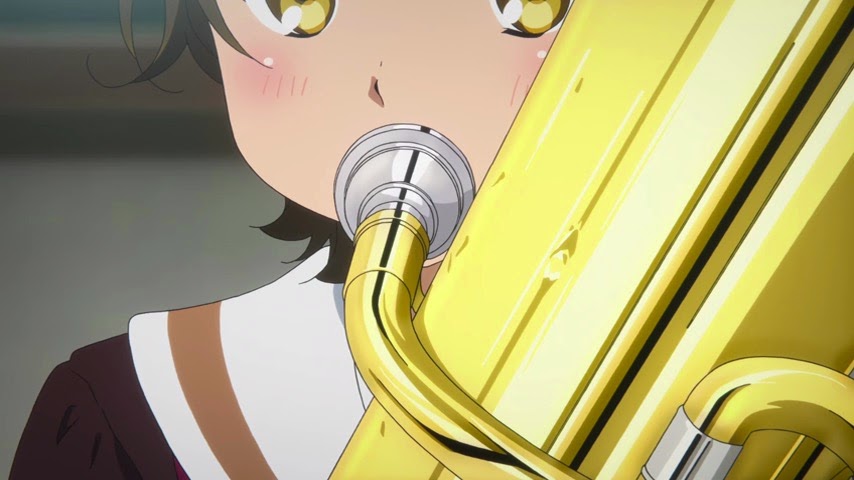 In the end, that's great but not enough to make Hibike! Euphonium a real standout of a series. It's a shame KyoAni didn't quite trust the audience enough to fully abandon their usual crutches, because they really act as a drag on the series. It would have been easy enough not to have several characters who act like classic Kyoto Animation archetypes, or to try and tell a story about both girls and boys – but that would be straying outside the safety net, and that's something KyoAni doesn't do too often. There's some leaning on crutches in Hyouka too (though not as much as here) I won't deny, especially in the early episodes – but it was as if at a certain point Takemoto-sensei decided (or was allowed to) that whoever was going to get hooked in already was, and he could venture off the usual roadmap.
Hibike! Euphonium is progress for KyoAni, no doubt – it's not dull, it does show restraint and occasionally allows its rough edges to show – but it's not everything it could be, if only it would have been willing to take some real risks and trust the audience to embrace it anyway.