If last week's ep of UBW was the Yin, this sure was the Yang.

What I said last week pretty much covers my thoughts now, so I'll just reference it here:
So far F/s n seems to be following the somewhat normal pattern of the series… which is to alternate very talky episodes with action-driven thrill fests. Those talky eps are a specialty of Gen Urobuchi and his quirky, iconoclastic characters so I think they tend to favor Zero in terms of interest level, but F/s n certainly doesn't take a back seat when it comes to bombast.
As anyone who's been a follower of this site for a while knows I have a complicated and conflicted viewpoint about Urobuchi Gen – for every point in his favor I think you can raise one against, but there's no denying he's one of the more talented writers in the game. This season, though, offering as it does UBW and a non-Gen season of Psycho-Pass, offers up a pretty good reminder of just how much better Gen is than most when it comes to writing interesting anime characters speaking interesting dialogue. I really think P-P II suffers generally in comparison with the first season, and UBW pales next to Fate/Zero when it comes to episodes like this one – eps that don't don't have the full glory of ufotable and the visceral appeal of the Grail warfare to hide behind.
Simply put, I just don't find most of this cast to be all that compelling. You get your obligatory nude scene with the loli, you get your tsundere conversation between Shirou and Rin, and don't even get me started on the truly insufferable Fuji-nee, who single-handedly torpedoes every scene she appears in. By comparison the gar-moe Saber is a veritable breath of fresh air when she's on-screen, even as she's made to go through her paces for our entertainment.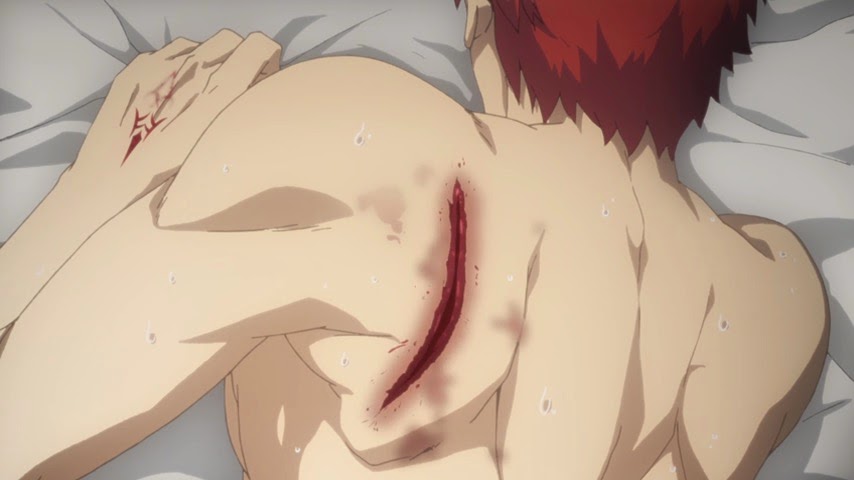 Stack that up against the conference of the three Kings, or Gilgamesh and Kirei laying bare all the darkness of the human animal and it comes up woefully short. Gen was able to add a layer to these characters, to elevate them beyond RPG archetypes and make them fully 3D while at the same time using them as mouthpieces for his internal debates about the deeper meaning of existence. There's a similar sort of debate at the heart of F/s n but it's more straightforward, and it works better as part of a more straightforward narrative style. Frankly, I just don't think this episode and the others like it work from a dramatic standpoint. But that's a reflection of the fact that I indeed don't find this cast especially compelling – if you do, this probably works just fine.