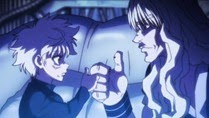 "Father x and x Son"


Hunter X Hunter is about surprises if it's about anything – Togashi-sensei always has the ability to take the story in a different direction than you expect. And that certainly applied to the inner workings of the Zoldyck family.
Gon's quest to meet Ging is the spine of Hunter X Hunter, in true shounen fashion. But long, long before Gon was able to make that happen we had another father and son reunion – and this one was extraordinary in every way. The scene where Killua and Silva speak is one of the most memorable of the entire series, yet another moment in the H x H canon that reminds us that this series is like none other, refusing to be conventional about anything that matters.
The context of this, of course, is that Killua has just been chained up and beaten in the Zoldyck dungeons for his transgressions against the family – though as Milluki says, he could have freed himself at any time and chose not to. After the horror show depiction of Killua's family to this point the depiction of Silva and Killua's conversation is shocking. Silva is an enormous man that looks like he belongs in Fist of the North Star, but he's amazingly gentle and caring with Killua, who looks like a toddler sitting next to him. Their conversation is full of warmth and affection, Killua unmistakably eager to bask in his father's affection, and ends with Silva granting Killua his freedom and making him promise never to betray his friends. It's practically heartwarming – but how in the world do we reconcile it with what's come before?
The answer to that question, I think, is that we don't – and that answer is a big part of what makes Hunter X Hunter so unique. Even 120 episodes later one can't say for certain how much of what we saw here was a father's love for his son, and how much of it manipulation and exploitation. It's complicated, because everything and everyone that matters in this series is complicated. A great scene that's powerful in the moment, and one whose repercussions stay with you long after – a true trademark of this series.