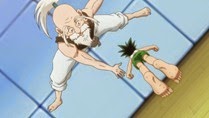 "Beneath x the x Surface"


There's an awful lot happening in this episode of Hunter X Hunter. If Episode #3 was the first time the series seemed to reach a meaningful plateau, for me this one was the next step. The feeling here is that there's a great deal more going on here than meets the eye.
This is an episode in which we see some significant clues into the nature of three critical players – Gon, Killua and Netero. It very starkly shows off the dichotomy between the goofy 12 year-old scamps Gon and Killua appear to be and the nascent monsters they are. It also reveals much of their unusual natures – Killua reveals for the first time significant elements of his terrifying past, and in his reaction Gon tells us much about his strangely straightforward and practical viewpoint on the world.
Then there's the game with Netero, which tells us a lot about all three participants. Gon far more than before reveals that beneath his carefree and simple exterior lurks a genius, someone that can instantly analyze a situation and react with a brilliant stratagem. Killua shows us the arrogance that will help drag him to the depths of despair, not yet beaten down by the cruelty of the world he's entered. And Netero makes his true entrance onto the scene – a playful, impish sort with an unerring eye for talent and for anyone and anything that can make his life more interesting.