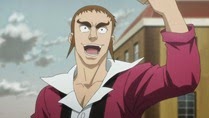 "Dictation x from x God"

There's one main reason Episode #48 stands out so much in my memory, and that's how much fun it is. There are certain episodes over the course of Hunter X Hunter's run that are simply a blast, and they often come in the midst of dark times ("Gon's Date With Palm" springs to mind). "York Shin" is a depressing journey through Kuapika's slow descent into darkness, shot through with man's terrible inhumanity to man, but Gon and Killua arrive on the scene here and it's as if someone has flipped on the light switch.
The other thing that stands out here is Togashi's seemingly boundless enthusiasm for detail, and the degree to witch he seems to have crafted the entire Hunter universe in his mind long before he started writing it ("Greed Island" as well often calls this feeling to mind). In this episode we're given a tour through the fascinated world of auctions, antiques, scams and grifts in York Shin, with the personable and likeable Zepile (who in his own way quite eloquently represents the perspective of artists) as a tour guide. It's another sort of education for Gon and Killua, very different from the one they received in Heaven's Arena – but an important one just the same.
This isn't the flashiest of Hunter X Hunter episodes, but I think it's one of the most important because it shows off a vital side of the series perhaps better than any other. With all these new wonders washing over him Gon tells Zepile, "You live in an incredible world!", and it speaks to the wonders of Togashi's ability to conceive these wonders in great detail. There's also a truly spectacular scene where Gon and Killua take Zepile out to lunch as thanks for his help (Killua's best and only offer) and the appraiser turns his eyes to the two strange boys before him. In doing so he sums up Gon perhaps better than anyone else has: "His reaction was very simple – innocent curiosity. He opens his mind to everything that impresses him, right or wrong. Which means that he's dangerous… Someone that can never be appraised."